Trucking news and briefs for April 13, 2022:
National spot market demand for trucks fell again in the last week, but bright spots remain
Weekly updates from Truckstop.com and DAT both showed measures of demand decline for spot market loads in the most recent week. Big-picture, Truckstop.com and FTR Transportation Intelligence's Market Demand Index snapshot continued to show increases in truck posts on its load board, with load posts falling overall after rising slightly the prior week.
Volume of those load posts, Truckstop.com noted, was more than 18% below the same 2021 week but about 83% above the five-year average for the week. If volume were to hold steady, the company added, it would remain negative year over year (compared to 2021) through June.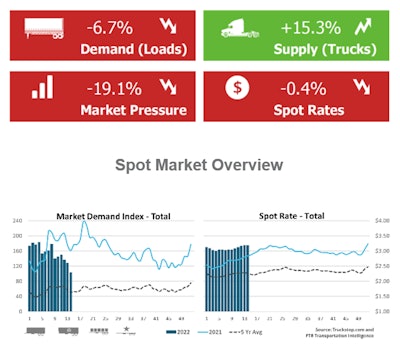 Flatbed continued to be a relative "bright spot" when it comes to rates holding up against the rise in fuel, as both reefer and van continued to lose ground at an accelerated pace. Flatbed spot rates posted another record, gaining another 1.3 cents all-in. Excluding the impact of fuel, though, underlying linehaul was down by about 10 cents, Truckstop.com said.
Reefer and van all-in rates on average lost 3 and 7 cents respectively, yet given fuel's 7-cent national decline last week, the week-to-week losses might not register fully as a profit negative overall.
Flatbed linehaul rates appeared stronger against fuel's rise in estimation of DAT Freight & Analytics, with those rates remaining flat in the most-recent week. Flatbed load-to-truck ratios softened further, however, portending possible future decline should that trend continue.
Texas van freight will be a market to watch this week, particularly given border-blockade activity on the Mexican side and increased inspections of incoming rigs on the U.S. side creating a freight chokepoint.
While seaports, too, will be a storyline to watch all summer, DAT said, more van loads are coming across the southern border into Texas from Mexico. The van load-to-truck ratio in Laredo averaged 16.2 over last seven days, much higher than the paltry 3.4 national average. McAllen averaged 24.1. Spot van loads from Laredo to Dallas averaged $3.66 per mile last week, 11 cents better than the March average, according to DAT RateView. McAllen to Dallas averaged $3.13 a mile.
TA acquires two large franchise locations
TravelCenters of America announced earlier this month that it has completed the previously announced acquisition of two travel center locations for $45 million.
Located along the Interstate 81 corridor in Virginia, Petro Raphine (also known as White's Travel Center) and TA Lexington have been successful TA franchise locations since 2011, the company says.
The Petro Raphine site is currently under renovation to add 170 new truck parking spaces and greatly expand existing retail space. Following the renovation, which is anticipated to be completed this summer, Petro Raphine is expected to be one of the nation's largest travel centers based on its nearly 900 truck parking spaces.
Love's opens seven new Speedco shops
Love's Travel Stops recently announced seven new Speedco locations are now open across the country.
The locations offer tire, lube and light mechanical services, as well as DOT inspections.
"With this year's CVSA RoadCheck coming up fast, it's a great time for drivers to stop in at Love's Truck Care or Speedco locations for a checkup," said Gary Price, executive vice president of truck care, hospitality and facility maintenance for Love's. "Love's has over 420 locations in 41 states that are ready to serve drivers and help get them back on the road quickly and safely, and right now drivers can get $1 TirePass inspections and $10 off DOT inspections."
The new Speedco locations can be found at the following addresses:
3840 Garcon Point Road, Milton, FL 32583
6647 Highway 46, Heflin, AL 36264
6582 South State Road 66, Leavenworth, IN 47137
915 South 1100 West, Fillmore, UT 84631
12577 County Road 3101, Winona, TX 75792
4898 Shuffel Street NW, North Canton, OH 44720
1129 Smokey Mountain Lane, Newport, TN 37821