Trucking news and briefs for Wednesday, April 6, 2022:
FMCSA accepting applications for Truck Leasing Task Force
The Federal Motor Carrier Safety Administration announced Wednesday the opening of applications for the Truck Leasing Task Force (TLTF), in consultation with the U.S. Department of Labor.
The Task Force is an initiative mandated by the Bipartisan Infrastructure Law and a long-term effort of the White House's so-called Trucking Action Plan. As part of the plan's initiatives, the TLTF will evaluate the impacts of commercial motor vehicle lease agreements and discuss best practices for future agreements.
"The Truck Leasing Task Force represents one of the important actions the Administration is taking to improve the trucking industry," said U.S. Transportation Secretary Pete Buttigieg. "America's truck drivers need and deserve fair leasing agreements, and this work will help ensure that leasing is above board."
FMCSA Acting Administrator Robin Hutcheson added that the task force "will be instrumental in expanding our understanding of the financial impacts of truck leasing and will reinforce our commitment to the quality of life and safety" of truck drivers.
TLTF will cover these areas related to truck leasing arrangements, including:
Exploring predatory truck leasing arrangements in coordination with DOL and the Consumer Financial Protection Bureau
Evaluating common truck lease agreements and their terms, identifying and reviewing those that are potentially inequitable in the motor carrier industry
Reviewing agreements available to drayage drivers at ports
Studying the impact of truck leasing agreements on the net compensation of truck drivers
Examining truck leasing arrangements and financing arrangements among motor carriers, entry-level drivers, driver training providers and others involved in the industry
Assessing resources that assist truck drivers in reviewing the financial impacts of leasing agreements
The task force will include a maximum of 10 members representing labor organizations, motor carriers, consumer protection groups, legal professionals, owner-operators and other relevant businesses. TLTF will examine the above issues and submit a report to FMCSA and the U.S. Department of Labor.
TLTF's charter runs through February 11, 2024. FMCSA encourages diverse, non-traditional representatives, especially women and people of color, to apply to serve on the task force. Applications can be made at this link through Friday, May 6.
[Related: Killing the 'viruses and parasites': How to spot a bad lease-purchase deal]
Love's offering discounted inspections ahead of Roadcheck
Love's Travel Stops is offering truck drivers discounts on select inspections to help in preparation for next month's International Roadcheck inspection blitz, which is set for May 17-19.
Throughout April and May, drivers can receive $1 TirePass inspections and $10 off DOT inspections at more than 400 Love's Truck Care and Speedco locations across the country. During this time, drivers can also get a complimentary visual inspection with the purchase of any truck care service.
[Related: Invest in inspections to save money, hassle later]
"Love's team members want to help drivers get back on the road quickly, safely and legally as they continue to deliver essential goods across the country," said Gary Price, executive vice president of truck care, hospitality and facility maintenance for Love's. "Our team will help professional drivers be prepared for this year's CVSA International Roadcheck and save them time by offering TirePass inspections while they fuel up."
The focus of this year's Roadcheck is on wheel ends. Violations involving wheel end components historically account for about one quarter of vehicle out-of-service violations discovered during International Roadcheck.
[Related: CVSA announces Roadcheck inspection blitz dates]
Driver named Highway Angel for rescuing family after crash
Ryder truck driver Phillip Hurte, from Oklahoma City, Oklahoma, has been named a Highway Angel by the Truckload Carriers Association for rescuing a couple and their two young children after their SUV rolled over in a car accident.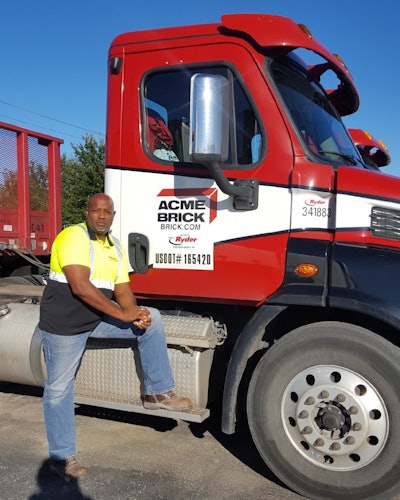 On Oct. 25, 2021, Hurte was on his route for Acme Brick in Lubbock, Texas, when he witnessed a terrible accident unfolding before him. Without hesitation, he hit the brakes of his truck to create an in-vehicle camera recording of the event and slowed down until he could safely stop.
Hurte carefully approached the rolled-over Chevrolet Suburban SUV and found two adults and two young children trapped, upside down, in the vehicle. He quickly helped extract the family from the severely damaged vehicle and stayed with them until the emergency responders arrived at the scene.
"It's not every day that you see a serious accident like that, when I'm available to help," Hurte said. "My thinking is, I'd want someone to be a good Samaritan if that was me and my family — to stop and see if I was okay."
The accident was caused, Hurte said, when another vehicle ran a red light and crashed into the SUV. The driver of that vehicle, traveling with a toddler, was killed in the accident.
Hurte's selfless and heroic act rescuing the family in the SUV not only safeguarded them from further harm, but his quick thinking in triggering a recording was essential to help law enforcement figure out what happened at the accident scene.
"If I can help, I'm gonna do it, because I want somebody to do that for me," he said.
TCA has presented him with a certificate, patches, lapel pin, and truck decals. Ryder has also received a letter acknowledging him as a Highway Angel.