Trucking news and briefs for Wednesday, Aug. 10, 2022:
ATRI: Trucking costs hit record high in 2021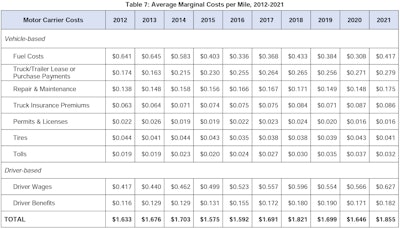 The cost of trucking in 2021 increased to its highest level in the 15-year history of the American Transportation Research Institute's annual Operational Costs of Trucking research -- $1.855 per mile.
Though fuel saw the single largest jump in expense (a 35.4% increase to 41.7 cents per mile), nearly every other line-item cost center also grew or remained constant. Even when fuel costs are removed, the marginal costs of trucking increased by 10 cents between 2020 and 2021, from $1.338 to $1.438.
Costs per hour were $74.65. Despite a slightly lower average truck operating speed than in 2020, costs per hour in 2021 also reached the highest levels recorded by ATRI since it began analyzing these costs.
Truck and trailer lease or purchase costs set another record high, rising 3% to 27.9 cents per mile in 2021, ATRI found. The firm said the modest increase was likely due to carriers' lack of ability to acquire new trucks because of lack of availability.
The same was true of repair and maintenance costs, which had the largest-ever annual spike as carriers faced unfavorable equipment markets. Repair and maintenance costs rose 18.2% from 2020 to 2021 and were the second-fastest- growing cost, only behind fuel.
Within ATRI's data set, insurance premium costs declined slightly in 2021 -- by a tenth of a cent, while tire costs declined by two tenths of a cent. ATRI said the likely cause of the stagnation in insurance costs was larger carriers taking on more direct risk and reducing their insurance premiums, but increasing their out-of-pocket costs.
Driver wages and benefits costs both increased in 2021. Wages reached a record high as a carrier cost item, while benefits corrected part of their 2020 decline. Combined, carriers spent an average of 80.9 cents per mile on driver wages and benefits in 2021. These figures do not include driver bonuses, also higher on average in 2021 than in previous years.
Average owner-operator compensation also grew for the third straight year to $1.81 per mile. Owner-operator utilization was up 16% during the year. The simultaneous increase in utilization and compensation may be the result of combined high demand and limited capacity during 2021, ATRI said.
In total, fleets with 100 or fewer trucks have higher costs per mile -- $1.88 per mile on average -- especially in cost centers like fuel and insurance premiums, than larger carriers. As prices spiked across the board in 2021, however, the gap between the average total marginal costs of small carriers and large carriers narrowed slightly. Fleets with more than 100 trucks spent $1.83 per mile in marginal costs versus $1.88 for smaller fleets. Faced with equipment and parts shortages, small fleets kept costs down by avoiding some purchases.
Fleets with 26 to 250 trucks were less able to wait out price peaks, ATRI found, and thus had the highest per-mile costs in equipment-related cost centers like truck and trailer leases or purchases, repair and maintenance, and tires.
ATRI said this year's report, based on motor carrier financial and operational data from 2021, had a record number of participants. It's also being released earlier in the year than normal to give the trucking industry more timely information.
[Related: Understanding costs/profit in relation to time for better load evaluations]
I-75 weekend closure planned in Michigan
The Michigan Department of Transportation (MDOT) is closing I-75 at Nadeau Road for bridge demolition in Monroe County.
The work is part of the I-75/Newport Road interchange project, which includes rebuilding the Newport Road bridge over I-75 and building roundabouts at each end of the bridge, along with rebuilding ramps at the interchange. The majority of work for this project is taking place in 2022-'23.
The interstate is currently planned to be closed from 9 a.m. Friday, Aug. 12, through 5 a.m. Monday, Aug. 15. Traffic will be detoured via the off- and on-ramps around the freeway closure. Drivers are encouraged to seek alternate routes.
HHG moving company employee sentenced for defrauding United States
Tal Ohana, an employee of various affiliated Brooklyn, New York-based moving companies -- including C and D Moving, Inc., Hicks Moving & Storage, Cross Country Moving and Storage Inc., and Great Movers Inc. -- was sentenced July 14 to two years of probation and a $100 special assessment for conspiracy to defraud the United States.
According to the Department of Transportation Office of Inspector General, Ohana and co-conspirators agreed to defraud the United States and DOT by submitting forms to DOT regarding motor carriers. Ohana allegedly knew these forms contained false information about the companies' ownership and true location.
The forms also failed to disclose the motor carriers' affiliations with other motor carriers whose operating authority had been revoked or suspended by the Federal Motor Carrier Safety Administration, OIG said.
Additionally, Ohana and co-conspirators directed others to lie to federal regulators and customers to conceal the moving companies' location and obstructed FMCSA from enforcing safety regulations that govern the use of commercial motor vehicles in interstate commerce.
Two electric Thermo King reefer units now eligible for California voucher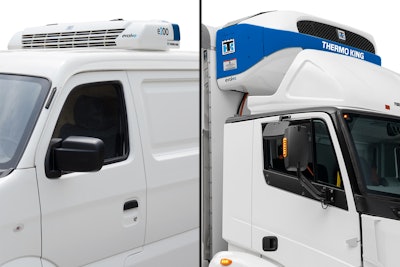 Thermo King announced this week that customers in California who purchase the all-electric e200 or e1000 transport refrigeration units (TRUs) for their transport vehicles will be eligible to receive point-of-sale discounts through the California Air Resources Board's (CARB) Clean Off-Road Equipment Voucher Incentive Project (CORE).
The Thermo King e200 and e1000 TRU models are part of the company's all-electric portfolio, branded Evolve, which includes electric refrigeration offerings for truck, trailer, rail, air, and marine transport in North America, Latin America, Europe, the Middle East, and Africa (EMEA) regions.
"Our electrified portfolio has expanded significantly, and by 2023 Thermo King will have a low or zero-emission solution in every segment of cold chain transportation," said Chris Tanaka, vice president of product management for Thermo King Americas. "Today's announcement is one of the ways we are accelerating solutions for customers, particularly in California, who need immediate solutions and help to reach their zero-emission targets."
CORE is a $125 million project, which is funded by California Climate Investments and intended to encourage California off-road equipment users (reefer units are included in that off-road category) to purchase or lease currently commercialized zero-emission off-road equipment. This voucher incentive project helps offset the higher cost of zero-emission technology with a point-of-sale discount. CORE offers vouchers for on- and off-road terminal tractors, truck- and trailer-mounted transport refrigeration units, large forklifts and cargo-handling equipment, and more.
This incentive project helps customers finance their switch to zero-emission tech by Dec. 31, 2029, as required by CARB. CARB states that owners are required to turn over at least 15% of their truck TRU fleet operating in California to zero-emission technology each year beginning in 2023.