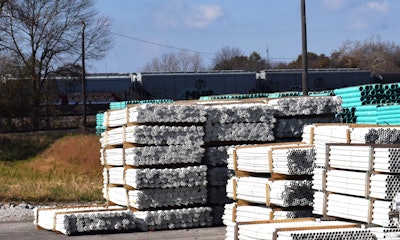 With just a month to go before the Christmas holiday, the U.S. finds itself staring down the barrel of a rail strike, which could boost spot freight volume and rates for some niches as shippers scramble to find an alternative to rail transport.
But with the historic swell of inflation and supply chain snarls hot-button political issues, both sides of the aisle in Congress, the White House, and the Department of Transportation appear willing to take measures to nip any such strike in the bud. On Wednesday, the House voted on a bill to prevent a rail strike, setting up the Senate to add seven days of sick leave for rail workers, potentially ending the possibility of a strike. However, some freight shifts may have already occurred.
Balaji Guntur, Chief Operating Officer of Hoptek, a logistics-focused software company that's part of the Kearney global management consultancy, said rail workers look entrenched, and that strike or no strike, the spot market could be in for a shock or two.
Guntur, who has worked extensively with trucking companies to improve intermodal operations, said that chances of a strike "almost seem at this point in time that the probability is creeping up every day."
Like most industry watchers, Guntur said the rail strike could impact fuel refineries and boost prices and hamper availability of fuel and diesel exhaust fluid, while hamstringing train-heavy industries like auto manufacturing. Guntur likened it to "adding fuel to the fire" of existing semi-conductor and other shortages. On the other hand, most retailers, he added, are already well-stocked for the Christmas shopping season, and provided any potential strike wouldn't go longer than a few days, he doesn't expect to see much more than "local increases in gas and food prices" for consumers.
But given a "huge synergy and interplay between rail and truck," he said, some trucking sectors might see increased demand -- others could flatline.
"Trucks in Chicago moving between rail yards are going to see a huge fall in demand, dray truck demand will vanish, that's the bad impact of a rail strike on trucking," he said, all sectors in high demand in the last month in particular, by some estimates.
"But there's actually a flip side," Guntur added. "A lot of goods that would otherwise go on rail will see customers willing to pay a higher price to get them by moving them on a truck."
Furthermore, rail workers won't just walk off the job suddenly. Their contracts stipulate a two-week cooling-off period, during which they have to stop running hazardous materials, like inputs for gasoline and DEF, said Guntur. In fact, railroads have already begun curtailing shipments of hazmats, according to the American Fuel & Petrochemical Manufacturers.
Tom Kloza, the global head of energy analysis at Oil Price Information Service, as reported yesterday, said this would hold up ethanol shipments, so gasoline refiners would likely take a hit.
Other casualties of a rail strike could include grain, the kind used to feed livestock, frozen produce, milk, and goods like soups as well, according to Guntur.
In the end, Guntur noted he expects a "large volume of goods trying to move through trucks and spiking spot prices, putting more energy into those markets, providing support" against the downturn in spot rates, at least temporarily.
[Related: The spot-market slide, and owner-operators' migration back to leasing]
But will the strike even happen?
Oil industry veteran Kloza warned that the more time and energy devoted to gaming out a rail strike's impact, the less likely it is to actually happen.
President Joe Biden has asked Congress to intervene to ensure the strike is avoided, and government intervention worked in September, the last time these issues came up. Guntur said House Speaker Nancy Pelosi could write up the current terms of the contract as a bill and send it to the Senate, or Congress could simply delay the deadline and give collective bargaining another chance.
But Gunter pointed to persistent issues for rail workers. The Association of American Railroads projects lost economic output due to a national rail shutdown could be more than $2 billion per day. So far, concessions in the most recently agreed to contracts will provide employees a 14.1% wage increase effective immediately and a 24% wage increase by 2024, putting average rail worker compensation at $160,000 per year by the end of the agreement.
While that might seem like good money and favorable terms, there's more at play than money.
"The sticking point now seems to be more around not having enough sick leave and personal days," said Gunter. At SMART Transportation Division, the country's largest rail union (that backed out of the agreement last week), workers rallied when a 51-year-old engineer and union member died of a heart attack on a train after delaying a doctor's appointment.
Meanwhile, rail work, like trucking to an extent, has become increasingly tech-heavy and automated. "Traditionally, rail companies invested significantly in tech, so much so that over the last 20 years they learned to do more with less people, and become more profitable compared to 20 years ago," said Gunter.
The share of revenue spent on labor went from about 35 cents on the dollar to just 20 over the same period, he said. "In my opinion, I think this whole dynamic of not getting sick benefits and personal days could be a last straw in the sense of how employees are responding," he said "What's going on right now, there's a larger dynamic at play manifesting now as workers not being happy with the terms of this agreement."
But as House Republicans signal support for intervention in the strike, it's becoming a union showdown against pro-union Biden, who's said he shares workers' concern about time off, but would block the strike anyway.
"It is not enough to 'share workers' concerns," said the Brotherhood of Maintenance of Way Employes Division of the Teamsters, the third largest rail union. "A call to Congress to act immediately to pass legislation that adopts tentative agreements that exclude paid sick leave ignores the railroad workers' concerns."
[Related: Rail strike back on the table, this time for December]