Trucking news and briefs for Thursday, Nov. 17, 2022:
Trucking conditions took a dive in September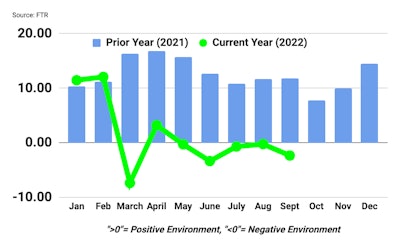 FTR's Trucking Conditions Index (TCI) deteriorated in September to a -2.35 reading from a near-neutral -0.25 in August.
Weaker freight rates and an end to the sharp drop in diesel prices were the key factors in the change relative to August, FTR said, although those negatives were partially offset by stronger freight demand and capacity utilization.
Overall, the largest negative contributor to the September TCI was the cost of capital, as the Federal Reserve battled inflation with higher interest rates. However, financing costs were only a slightly more negative factor in September than they were in August.
"After 18 months of mostly double-digit TCI readings, the index has been negative in all but one month since February," said Avery Vise, FTR's vice president of trucking. "We expect market conditions to remain mildly negative for carriers in most months at least through 2023, but that weakness likely will not mirror the strength seen in late 2020 through early 2022."
Vise added that carriers that "managed their businesses well during the good times should remain healthy and outperform those that had relied on a robust market to remain afloat."
[Related: POLL: If you've financed a truck recently, what was your interest rate?]
AtoB fuel card, Casey's partner on diesel discounts
Fleet payments platform AtoB and the Casey's convenience story chain, serving 16 states, announced a partnership to reduce fuel costs every time customers use AtoB's Visa fleet card.
Starting today, AtoB card holders can save seven cents per gallon on all fuel purchases at Casey's roughly 2,400 stores. AtoB card holders automatically receive a discount of seven cents off every gallon of diesel purchased (gasoline, too). No activation or redemption is required for savings to apply, with the discount reflected on the customer's weekly transaction report.
The partnership is the latest in AtoB's growth and expansion of financial services for fleets nationwide, including no-hidden-fee fuel cards powered by Visa, and direct-deposit payroll that sends funds instantly and for less than other payroll providers, the company said.
[Related: Weapons in the fuel arsenal: Independent's price-discount success with a relative newcomer]
St. Christopher celebrates Rigs Without Cigs success
The St. Christopher Truckers Relief Fund this week celebrated the success of the trucking industry's only smoking cessation program, Rigs Without Cigs, in support of the American Cancer Society's annual Great American Smokeout awareness event. Since the Rigs Without Cigs program launched in September 2017, 178 truck drivers who participated have quit smoking -- a 40% success rate, SCF said -- and more than 124 drivers have cut their usage in half or more.
While smoking rates have dropped dramatically over the past 40 years, smoking addiction still has a stronghold on professional truck drivers, SCF said. A study conducted in 2019 by the University of Utah showed 68% of truck drivers surveyed were daily smokers -- a much higher percentage than the national average of 14%.
According to the Centers for Disease Control, cigarette smoking remains the leading cause of preventable disease, disability and death in the United States, accounting for more than 480,000 deaths every year, or about 1 in 5 deaths. These facts, coupled with seeing that many SCF applicants had illnesses directly related to smoking, led to the creation of the Rigs Without Cigs program.
The program offers four methods of quitting, along with tips and tools to aid in becoming tobacco free. It's a free program available to all active Class A OTR truck drivers, thanks to sponsors who support the program with either monetary or products donations.
Volvo partners with Pilot for public EV charging infrastructure development
Volvo Group, the parent company for Volvo Trucks and Mack Trucks, signed a Letter of Intent with Pilot Company on public charging infrastructure buildout.
The deal calls on Volvo Group to provide expertise in helping identify which locations should be prioritized for electromobility infrastructure, based on current and expected battery-electric truck adoption, customer charging requirements, as well as the availability of federal and state funding to offset capital expenses, while Pilot Company intends to install high-performance charging infrastructure at select "mutually identified travel center locations" at its Pilot and Flying J travel centers across the U.S.
Mack Trucks currently offers the Class 8 Mack LR Electric refuse model. Volvo's VNR Electric, which has a current range of up to 275 miles, was designed for urban and regional distribution with zero-tailpipe emissions.
[Related: Today's narrow paths to electric powertrains for small fleets]
Early adopters of both models have leaned heavily on depot/terminal charging to support their daily routes, where trucks return to one location to charge. The introduction of public charging infrastructure that can accommodate medium- and heavy-duty fleets goes hand-in-hand with recent bipartisan support of the goal to increase battery-electric charging capabilities and reduce the carbon footprint of the transportation industry.
Once deployed, the Pilot and Flying J charging network will be open to heavy-duty vehicles of all brands. Chargers will be located at select Pilot and Flying J travel centers, which are ideally positioned along transportation corridors and are well-equipped to serve professional drivers. Pilot Company recently embarked on a $1 billion 'New Horizons' initiative to upgrade and prepare its locations for the future of travel, further enabling the development of charging networks for both passenger vehicles and Class 8 trucks.