Haul Hero's new navigation functionality debuted at MATS
The Haul Hero smartphone application launched last year with an initial focus on providing owner-operators a cost-per-mile calculator and other expense-management tools. At the Mid-America Trucking Show, cofounder and managing partner Jerry Rosen and the team demonstrated its new turn-by-turn navigation capability, in its most simple form available free to users.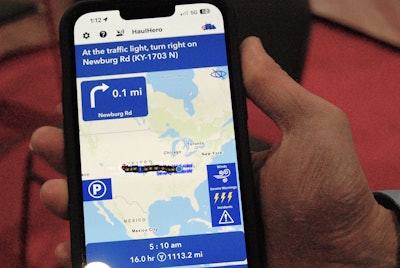 As noted, the basic navigation platform is free to all Haul Hero users and features turn-by-turn directions, re-routing, parking, weigh stations, stops, and more.
The upgraded "Superhero" subscription adds weather information along the route, severe-weather warnings, and an "Actualizer" tool, which incorporates features of the embedded cost calculator to offer tools toward estimating load cost per mile in real time. Superhero accounts also receive detailed monthly activity statements highlighting monthly miles, fuel, and truck costs.
Among features that will also soon be added include an addition that Barry "Bear the Voice" Mathews, an early Haul Hero user serving in an advisory role for the company, recommended personally: wind advisories. "I've watched trucks roll over in Wyoming and the Dakotas," he said. Getting a heads-up about high-wind advisories along any route could prove a big bonus for operator self-preservation, and basic safety. The McAlester, Oklahoma-based operator Mathews put it this way: "This app is going to save lives."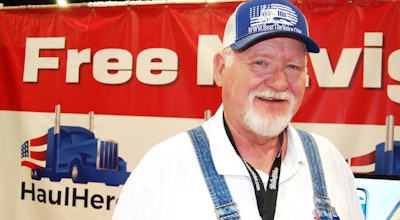 Other Superhero subscription features soon to be incorporated into the app: traffic incident alerts along the route, and Haul Hero's exclusive "voice-to-action" hands-free integration. The integration will allow drivers to engage the essential features of the app through voice commands, enabling drivers to bypass typing information into fields.
The Haul Hero app is available on both iOS and Android smartphone platforms -- use promo code HH23-MATS through April 30 for a free three-month trial of Superhero features. It's $4.99/month or $49.99 annually otherwise.
Truck'N for broker reviews, nav, more -- brainchild of owner-operator Deron Salmon
Deron Salmon spent most of his years trucking as an owner-operator, growing beyond one truck for a time to a small fleet before he reversed course, coming to the conclusion he could make more money on the bottom line with just the single rig, and a close handle on his own costs, revenue and income.
He scaled back and then leased other owner-operators like himself until recent times. He's been training for a pilot's license with an intent to enter commercial aviation while also building a new tool, the Truck'N "Truck Networking" smartphone app, out now and available with a 14-day free trial ($19.99 monthly or $199.99 annually thereafter).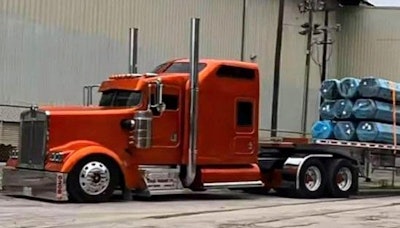 Salmon feels owner-operators will see a driver's influence when they start using the app, which intends to fill what Salmon sees as a void in quick-access tools available over-the-road to share experiences with brokers through reviews. Brokers "have Carrier411 where they can check us," he said, and "the first thing they ask for is for our MC number. Why are we not doing the same thing?"
Armed with a broker's MC, app users can check a broker's authority there -- if the middleman's not in the app, Salmon said, they've been revoked by the FMCSA -- and, increasingly as the user base grows, reviews other owner-ops and small fleets have left of the broker. For a gut check on brokers you're unsure about given all the ID-theft and impersonation going on in the spot market, you can call directly from within the app to the central listed number for that broker in the federal registration system, he added.
[Related: More freight fraud inbound? Rates pessimism sets the stage]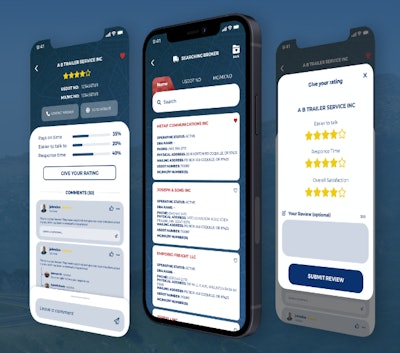 The app also features accounting and trip-planning functionality, likewise trucking-specific navigation capabilities that Salmon, working with developers at TomTom, has made strides in customizing specifically for truck operators. At his suggestion, for instance, he said, in the second quarter this year "they're going to remove U-turns" from large-truck routes in-app.
The app's only been available publicly in the app stores for a couple of weeks now, but from a variety of testers he's "gotten good feedback," he said, utilizing several operators outside of his direct circle to test the app, and "we're working on other features to benefit the driver."
New TrueTMS back-office system for small fleets revamps prior offering
Some of the people behind the formerly branded Lynks TMS have been on a full redevelopment road in recent months toward relaunch as T3 Tech, LLC, with the TrueTMS product, retaining functionality previously reported on in-depth in Overdrive with Troy and Heather Baumgartner's one-truck operation. The new TMS was developed from the ground up to be geared specifically for the needs of small fleet owners and operators.
TrueTMS has a user-friendly interface, the company noted, and structured workflows that support all steps in the order-to-cash lifecycle of a freight transaction. The system, just as Lynks did, operates in the cloud, purposefully designed to help small fleets improve driver, load, and asset management to grow revenue, profitability, and accelerate cash flow.
"Every trucking company starts out small," said Jared Akers, company managing director. "Our goal in developing TrueTMS is to make room for growth. We do this by removing technology roadblocks and delivering a powerful back office that streamlines and scales fleet operations."
[Related: TMS platforms: Not just for large fleets]
Core features:
Load Management: Assign loads to drivers, track progress, and adjust routes as needed.
Driver Dispatch Management: Optimize routes wiith end-to-end visibility of load progress.
ELD Integration: Compatible with more than 30 ELD providers.
On-Demand Reporting: Access data from dashboards and customized reports for decision-making.
Users can access the system anywhere, on any type of device, the company said. The pricing model has no contracts or hidden fees.
Find more via the company's new website. A free, 30-day trial with no credit card required is available.