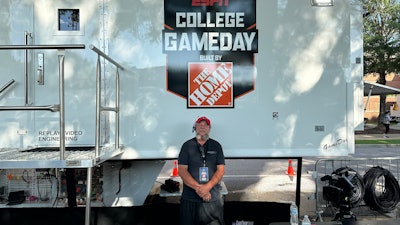 ESPN's College Gameday, now its 36th season as the sports network's college football pre-gameday show, is one of the most iconic television programs for sports fans. During college football season, the show travels to college campuses across the country for the premier game of the week.
College football fans are well aware of the on-screen talent, notably Lee Corso, on this show since its inception in 1987 -- then as a studio show before going on the road full-time in 1995. The current iteration of the show still includes Corso, along with Kirk Herbstreit (since 1996), Desmond Howard (since 2005), host Rece Davis (2015), and Pat McAfee, now in his second year as an analyst. Several other contributors make weekly appearances, yet behind the scenes there's a perhaps even more important cast of characters.
These truckers get the Gameday set to its location each week, build the set in the couple of days before the three-hour Saturday morning program, and dismantle everything before hitting the road to their next destination.
Led by driver Tommy Marshall, operator for Game Creek Video, the group of seven truck drivers and dozens of engineers and technicians do all that work every week through the fall. In addition to Marshall and Game Creek Video, the other truck operators and companies involved in the show's production:
Gerry Glass, Cameron Sheckels, Bill Verberkmous and Nigel Corcho with West River Light & Sound
Walter Allen with GoVision
David Day with Filmwerks, a subsidiary of Sunbelt Rentals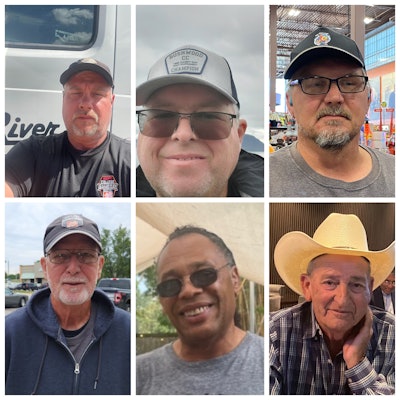 West River Light & Sound, with four of the seven trucks on the tour, is owned by Justin Endres and Chris Irons.
Driving for the crew, unlike most niches within trucking, is a secondary task in mobile TV production of this type.
"It's kind of funny. I've driven 48 years of my life, nearly 4 million miles, and I've never driven any freight," Marshall said.
He's been in the entertainment side of trucking since 1976, when he started in music, hauling for rock and roll bands. He toured with bands for 28 years and wanted to make a change and got into mobile TV, driving for Game Creek Video, where he is now the senior-most driver at the company.
He's been doing the College Gameday tour each fall for the last 20 years.
A typical week in the life of a College Gameday trucker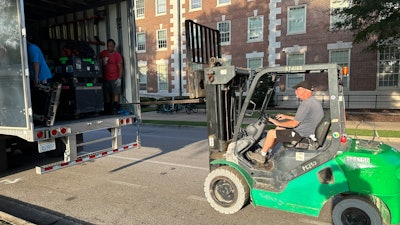 Marshall and the other drivers on the tour will start toward their destination on Sunday and arrive at the latest by Wednesday. If the destination isn't drivable in a day -- and isn't so far as to warrant a team driver -- the drivers get put up in hotels each night.
Marshall said Pat Sullivan -- founder of Game Creek Video, former New England Patriots general manager and son of Patriots founder Billy Sullivan -- told him when he was hired 20 years ago that he wanted him well-rested and happy, and told him he was going to stay in hotels every day.
"We know where every hotel is on every route in the country that has truck parking," Marshall said. "We know where they're all at. Once we know where we're going, we jump on the app" and decide they will "stop in such and such city because we've stopped there before, there's good restaurants nearby."
Overdrive caught up with Marshall and his crew during Week 2 of the football season, when College Gameday was in Tuscaloosa, Alabama, on Sept. 9 for the matchup between the Alabama Crimson Tide and the Texas Longhorns. The previous week, the Gameday crew had been in Charlotte, North Carolina, and the following week, they were in Boulder, Colorado.
During an ideal week, university officials allow the crew on campus around noon Wednesday to start unloading. Some universities, though, prefer a later start -- 5 or 5:30 p.m., to allow some of the faculty and students to get off campus. The goal on Wednesdays is to get several of the seven trucks unloaded, beginning with the rig carrying roofing equipment for the College Gameday stage. They then unload the truck carrying all the barricades. The third truck, Marshall said, has some of the more "unusual stages" for the Gameday set.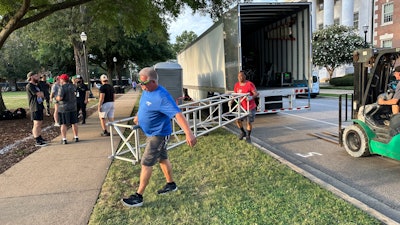 The drivers of all seven trucks work together with engineers and technicians to unload the trucks with forklifts and other equipment brought to the site from the local Sunbelt Rentals, or another equipment rental company, as the case may be.
Finally, Marshall's truck -- which carries the production equipment and is home for the live production studio when the show airs -- and the generator truck are brought to the scene.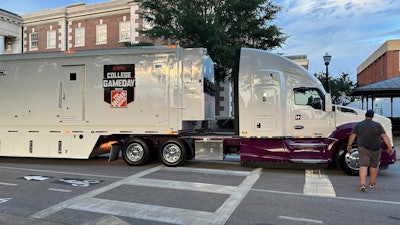 Those two trucks are the only two that stay in place near the Gameday set throughout the week, as they're needed to provide power and house production. A third, not part of the seven rigs hauling equipment for the set, also stays on-scene -- it's a satellite truck that takes the feed from Marshall's rig, beams it to a satellite that goes to ESPN's headquarters in Bristol, Connecticut, where it's then transmitted to millions of TV screens across the country -- all in 7 seconds.
Two other units in the operation carry electronics and jumbotrons, often not unloaded until Thursdays when those parts of the stages go up "to keep them safe and out of the way," Marshall said. "It's generally the same pecking order" every week for unloading the trucks, "depending on the real estate I have to deal with." If there's enough space, Marshall's truck and the generator truck will try to set up at the same time as others are unloaded.
Kyle Monroe, engineer in charge for Game Creek Video, said every week during the College Gameday tour is a different challenge, with different layouts at each college campus. Some campuses give the crew plenty of room to work, and others can be in much tighter quarters. "We need certain parameters to open everything," he said. "Flat is good. ... Gameday is a unique beast," but Marshall and the other drivers "have been in it a long time" and are plenty creative when it comes to making space to do what's needed so the show goes on.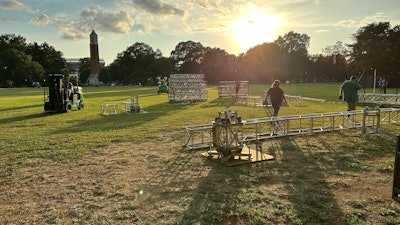 On Thursday, with the help of dozens of local stage hands, the drivers are building the entire College Gameday set and anything that goes along with it.
Fridays and Saturdays, the drivers are mostly standing by until the end of the College Gameday show at noon Eastern time. "Once we get it all built, [the drivers] are technicians -- they're there to lend a helping hand" if needed, Marshall said.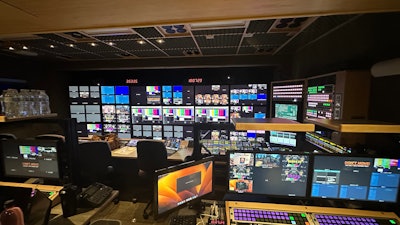 After Gameday ends, The Home Depot and other sponsors bring their VIPs on stage to have pictures taken on the Gameday set and with the on-screen talent. While that's going on, the drivers and other behind-the-scenes crew are starting to pack up their gear and tearing down the set.
[Related: Trucking's toughest niche? Inside log hauling, which could be on the brink of a powertrain revolution]
Mobile TV and the hours of service, owner-op opportunity
Many of the drivers in mobile TV production are in salary-based compensation arrangements, rather than hourly or per-mile pay. Actual driving between productions, after all, might encompass just a few hundred weekly miles. Between Week 1 and Week 2 of the 2023 season, the crew hauled just 450 miles or so from Charlotte to Tuscaloosa, for instance.
Hours of service regulations typically aren't much of an issue. Marshall said for him at Game Creek Video, most of his direct work for Game Creek is done by the end of the day Wednesday and he's off the clock until after Gameday ends Saturday, allowing his 70-hour clock to reset.
"Once all the driving ... and all my duties for Game Creek are done, if I'm assisting somebody doing something, it's out of the kindness of my heart," he said.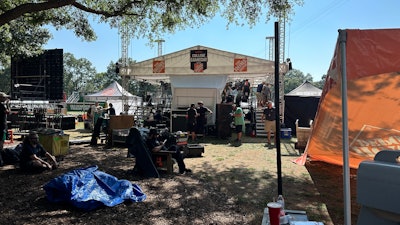 He, of course, has to abide by federal hours of service regulations when he's driving and doing job-related functions. When he goes back on the clock after the show ends Saturday, he's taking inventory of everything that goes into his truck and overseeing the loading process of all the trucks to make sure everything gets positioned correctly in the trailers for the crew to be able to hit the road Sunday morning.
"We generally get [my truck] done in an hour and 15 minutes" after the show ends, Marshall said. "But I stay on-duty because I'm still doing on-duty stuff. ... I oversee the gear getting to various trucks," and it typically takes five and a half hours, give or take, to be ready to roll the following day.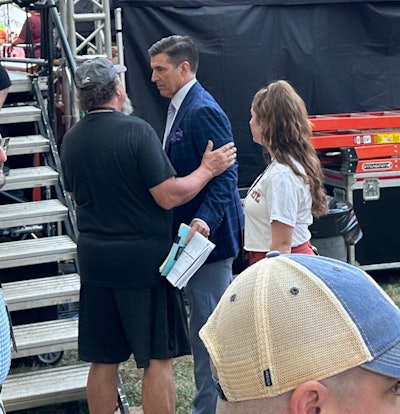 At that point, they park and turn in for the evening. The next day starts the process over, as producers decide where the crew will be the following Saturday. The crew often don't know where they'll be going before Sunday morning. A cross-country run -- say, Miami to Eugene, Oregon -- might necessitate team drivers flown in by the companies to make the trip on time.
"If we can do it" solo, "we do," Marshall said. "I look at the mileage and weather" to decide if a team driver is needed. "If I look at it and I can't do it, I just call the office, and we just round up seven team drivers. They fly in and off we go."
It's not exactly ideal to have a team driver, particularly pulling Marshall's production trailer -- his truck is usually nearly maxed out on weight.
Marshall said all of Game Creek's 70 drivers are company employed, as are the other drivers who work on the College Gameday crew. That doesn't mean there aren't owner-operator opportunities in the entertainment side of the trucking industry broadly speaking.
On the music side of the business, he said several companies are mostly owner-operator. In mobile TV, like Gameday, the Filmwerks company owned by Sunbelt Rentals will occasionally use owner-operators affiliated with the Trailer Transit power-only company if they're short on company trucks, Marshall said. Likewise, if a truck has a breakdown on its way to a site and it can't get back up and running quick enough, sometimes an owner-operator with a company like Trailer Transit will be brought in to repower the trailer and get it to where it's going.
"There's still a need for owner-operators in the entertainment industry," Marshall noted.
[Related: Clark Transfer: Minimum revenue guarantee for owner-operators gaining traction hauling Broadway shows]
For the love of the job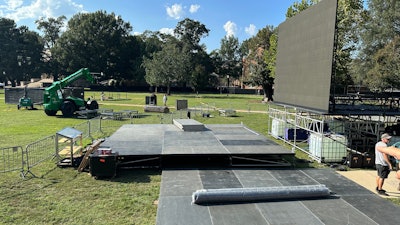 Not every truck driver is cut out for a mobile TV crew, Marshall said. When working behind the scenes, "you don't know who you're talking to." He said during his time with Game Creek, he's met the CEO of Disney, vice presidents of television networks, state governors, and "some just look like you and me. We want people that you know aren't going to offend anyone or say the wrong things."
The niche also requires a certain attitude and personality, he noted. "You either have that skill or you don't. That's not something that can be taught. A lot of drivers love driving because they don't have to deal with anybody. In entertainment, in music or sports, mobile TV, that's not true."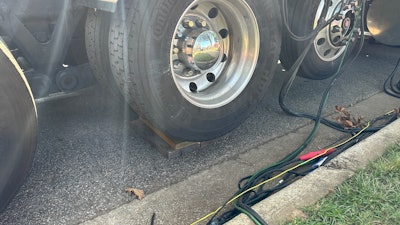 Between last-minute trip assignments, manual labor building and tearing down sets and other intricacies of the job, "you gotta like what you do," Marshall said. "It has to come from the heart and soul. If you don't mind putting forth the extra effort," it's great work. "Even the music industry, mobile TV, it's well worth looking into, because we're well taken care of, well paid."
After college football season ends, Marshall transitions to College Gameday for basketball season, then does whatever is on his schedule -- sometimes professional sports, sometimes network television and more -- until late August when College Gameday starts back up.
Marshall noted that with Game Creek Video, the company encourages many of its drivers to take a week or so off each month. "They try hard to fly you home for 8-10 days a month," he said. Marshall himself as the lead driver typically works non-stop throughout football season before getting back home, unless Gameday makes a stop at Ohio State in Columbus, Ohio -- his hometown.
"I've stayed in it 48 years of my life because nothing puts a smile on my face more than to know, when I did concerts, I would look for a family that couldn't afford a ticket, and I would make sure that I got passes and they were my guests," he said. "To see little kids get to meet their favorite band, they'll never forget that. That's why I still do this. We have fans out here that think they died and went to heaven when I arrange to get them some passes, introduce them to our talent, get their pictures taken with them. They are absolutely blown away, and they never forget that. That's why I do it. It just warms my heart to know I have the ability to put a smile on somebody's face."