"TQL PAY ME MY $8,000," the now-infamous protest slogan of small fleet owner Gabriel Scott, has rallied more carriers to speak up about similar issues. Scott took his tractor-trailer to the broker's Ohio office to protest the company's withholding of payments for several loads after a claim of damage to the cargo in just one load.
Two carriers spoke to Overdrive about TQL withholding tens of thousands of dollars on loads that had no claims against them. The common issue among all of them, as well as Scott's, stems from language in TQL's carrier contract that stipulates their right to "offset" cargo claims.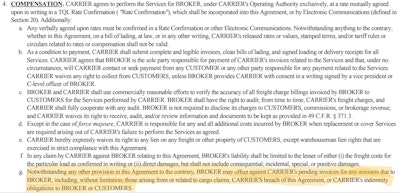 From TQL's carrier contract, as illustrated above: "BROKER may offset against CARRIER's pending invoices for any amounts due to BROKER, including, without limitation, those arising from or related to cargo claims, CARRIER'S breach of this Agreement, or CARRIER's indemnity obligations to BROKER or CUSTOMERS."
Basically, if there's a claim on a load a carrier hauls for TQL, the company can refuse to pay for that load and any other pending invoice.
Attorney Hank Seaton has warned against this kind of clause, telling carriers to avoid it like the plague and suggesting some brokers use it for a little free hauling, as it were.
[Related: What to do when a broker withholds payment after a cargo claim]
"If they think you got a claim they give you five more loads" likely without intention to pay, said Seaton. "Because they have the right of offset, they do it all the time but it's a sucker's game.
"Insist on no offsetting." If the broker does offset, insist they "forfeit any right to the cargo claim," he concluded.
Despite this legal red flag, carriers haul thousands of loads for TQL, one of the industry's biggest players, every day.
Keith Shaffer, owner of Jamestown, Pennsylvania, small fleet 2Can Express, said TQL used a trumped-up cargo claim to deny him payment on $17,000 worth of hauling. In April, one of his drivers hauled a load of chicken from Texas to Billings, Montana. The shipper, Pilgrim's Farms, had his driver wait nearly two-and-a-half days to load the reefer trailer -- it was a power-only load for 2Can.
During the two-day stretch, to save fuel they shut off the reefer in wait for the load. Finally loaded for two stops, one in Billings and one in Ogden, Utah, they placed TempTales temperature monitoring devices in both sections of the load.
"When we got to Billings, Montana, they come out and they told him they're gonna reject the load because the chicken was hot," said Shaffer. "They pulled both TempTales, and it was 37.5 degrees. Well, the chicken was loaded at 38."
Of course, reefer units are not blast freezers. But Shaffer had the TempTales data backing him up, so he continued on.
[Related: Reefer madness: Tricks of the trade to make sure you get paid]
"They rejected the load but they kept it," he said. "It was labeled as their chicken, so they wanted it to stay in their hands. That's what I was told. It may have been OK and they had a barbecue instead."
Shaffer called TQL, who he said instructed him to continue on to Utah. When he made his next stop in Ogden, the receiver stopped him on the street, having heard about the issue in Billings, said Shaffer.
"The guy jumps up and takes his thermometer, pokes the chicken, went all the way through the half load and found nothing wrong with my chicken," he said.
So the first shipment was somehow bad, but the second one was fine. Perplexed, but with a clean BOL on the second drop, Shaffer continued about his business.
That was in April. About 90 days later, the payment term he agreed to with TQL, his factoring company called with bad news. "Something about a claim on a chicken load, they're not paying invoices," the factoring company rep said. But Shaffer had armed himself with documents, paying about $200 to Carrier to print out the data from the reefer unit, too.
"Your reefer worked perfectly from the time it left to the time it got here. All the temps were perfect, nothing wrong with the unit," Shaffer summarized the report. The TempTales devices told the same story.
Shaffer made a cargo insurance claim, and they "did a complete investigation on this, driver's logs, downloads, TempTales, maintenance records on the trailer... I had everything I could possibly need, and everything comes back that we did nothing wrong," he said.
But according to Shaffer, TQL told him they'd given the money for his load back to the original shipper. TQL refused to look at his extensive documentation, he said. The insurance investigator "did a real thorough job, but decided they don't need to pay, they can't pay because there's no fault of ours."
Now for some cruel irony: "They said if you would have had a reefer breakdown and went kaput, and you lost the load, we would have paid for that, but there's nothing here stating the reefer breakdown."
[Related: Beating back too many brokers' wrongheaded mentality]
Even worse, in the intervening months Shaffer moved another $17,000 worth of loads for TQL. With the faintest whiff of a cargo claim, TQL exercised their contractual right to "offset" the invoices.
"Why didn't they cut me off?" asked Shaffer, who never would have hauled again for TQL if he knew they had an easy out from paying him.
Mark Corthell, owner of Corthell Transportation out of Rock Springs, Wyoming, had almost the exact same situation play out, only he said he's owed $34,000. "I hauled a load last year for them, an oversize," he wrote. "During transit there was damage to the bolt-on tiedown points that secured the load to the trailer."
The receiver fixed the damaged pieces and, according to Corthell, did not report any damage and accepted the clean BOL after the crane lifted the cargo with no issue.
"It has been 12 months. TQL is holding that load's $19,000 and a previous load we hauled at $15,000 for a total of $34,000," he wrote. "We carry $1 million in cargo insurance. We have a $10,000 deductible. This is very standard. We are in a risky business. Stuff happens, there are claims, we deal with it on a regular basis. It is standard practice."
But of course, no claim here got reported. Corthell hounded TQL about it for months, and that's kept him from getting paid for "freight earned" from his insurance.
"If the freight payment is withheld and no claim is filed, you can not apply for your freight earned," he wrote. "In my case with TQL, this is what they did. And it sounds like this is their normal practice. I filed the claim and my insurance contacted them for a record of the damages. And they just ignored it for seven or eight months."
When finally they sent insurance the bill, it was "so vague and unsubstantiated that insurance can't tell if it's a legitimate claim," he said. "I'm still out $34,000. It hurts. ... The BOL was clean when we factored the invoice. The factoring company verified it was clean with TQL. They always do, and we got the money. Then 60 days later when TQL didn't pay, we had to pay it back to the factoring company. Ouch!"
Corthell breaks it down like this: If TQL doesn't pay the invoice, that's money in their pocket. If the carrier can prove there's no claim and TQL makes them wait as long as possible, that's also money they get to hold. If the carrier goes under and can't fight it? Money in TQL's pocket.
Corthell said he crossed out the "offsetting" portion of TQL's contract when he re-signed it in 2020, and that TQL isn't honoring that.
In Shaffer's case, "that's the first time I ever heard of offset," he said. "These contracts these brokers send you are 10-15 pages long and I don't have the time to field these contracts or go through them without paying some lawyer an ungodly amount of money. Plus, it's all basically the same jargon."
Now, both Shaffer and Corthell, independently, are looking at organizing a class-action lawsuit. Overdrive contacted TQL to get their side of these stories, but has heard nothing back.
"If someone did a class action the amount of money extorted in this fashion would be astounding," Corthell said. "And the sad part is how much this affects all the honest, hardworking carriers and brokers fighting to survive in a very tough economy."
[Related: Convoy's collapse: Was the tech worth the hype?]
But TQL may have other things to worry about.
Dakota Springfields, the owner-operator and law degree holder behind Pink Cheetah Express, currently an intrastate hauler in Florida, recently wrote the DOT a letter urging an investigation into TQL's contract policies, saying that another contract clause required carriers to forfeit their right to broker "transparency," the right to review all transaction records guaranteed under 49 CFR 371.3.
Springfields points out that the Transportation Intermediaries Association, the trade group for brokers that counts TQL as a board member, does not recommend putting this language in their sample contract.
Overdrive contacted TIA asking about the issue of nonpayment to carriers, and has heard nothing back.
Also notably, in September a court ruled that TQL and its CEO Kenneth Oaks are liable for unpaid overtime wages for more than 4,500 employees who were "strongly encouraged" to work 60 hours a week. Attorney Matthew Leffler on Wednesday wrote on Twitter that "the misclassification of non-exempt employees will cost them tens, if not hundreds of millions of dollars."
The relatively young National Owner Operators Association, headed up by Mike Boston, encourages carriers who feel victimized by TQL's "offsetting" practice to get in touch to pursue possible legal action. Boston has encouraged a boycott of TQL, and NOOA recently announced a shutdown aimed at demanding enforcement of 49 CFR 371.3. The move followed FMCSA's delay of potential action on strengthening the regulation and its enforcement from this year way out to Halloween in 2024 on the regulatory calendar.
[Related: 'Continued delay is BS': OOIDA on FMCSA's move of broker transparency action to late 2024]