A $5 million gift from Marshall and Katherine Cymbaluk of Everett, Wash., owners of the Motor Trucks three-location International dealership in Western Washington state and Kenworth Northwest, with six locations in Washington and Alaska, made possible the new medical tower of Providence Regional Medical Center in the Cymbaluks' hometown. The center thanked them for what ranks as the largest philanthropic gift Providence Everett has ever received by naming the tower after them. "It is also one of the largest philanthropic gifts ever made in Snohomish County," said Providence CEO David Brooks.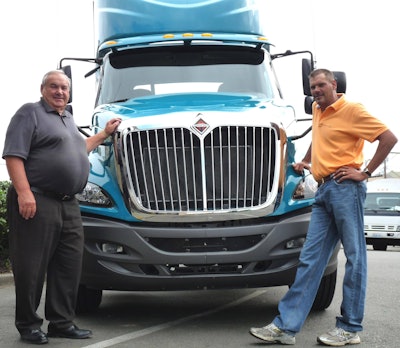 The Cymbaluks (Marshall is pictured here with his son, Jeff, general manager of Motor Trucks; photo by Kurt Batdorf, Snohomish County Business Journal) have a long history of involvement with Providence, dating back more than three decades. Katherine worked as a registered nurse for many years at General Hospital before it merged with Providence Hospital in 1994. And Marshall helped to found the Providence Hospital Foundation and served on the Board of Directors in the mid-1980s.
He said of the gift, "We have lived in Everett and Snohomish County for nearly 40 years. We raised our son here and have truly enjoyed our grandchildren being raised here as well. We've also built a successful business here. We are grateful for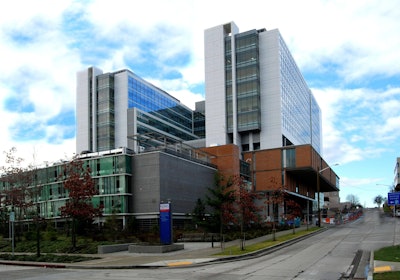 everything this community has given to us. Our gift to Providence is one way we felt we could give something back."
The 12-story tower (pictured) was a $500 million project, all told, and will open with 240 patient rooms with additional capacity. It also has a new 79-room emergency department, along with two interventional surgical floors, two critical care floors, and a diagnostic imaging department with $20 million in new imaging technology.