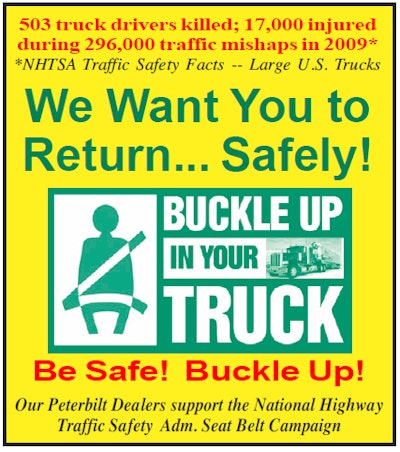 If you missed the news yesterday, the network of Peterbilt dealers in Sioux City Truck Sales has jumped in with support of the National Highway Traffic Safety Administration's "Buckle Up in Your Truck" safety campaign. Big deal, right? Well, yes. The dealer is putting its money where its mouth is on this one.
In the coming months, owner-operators utilizing one of their four locations in Sioux City, Council Bluffs and Des Moines, Iowa, and Norfolk, Neb., will receive a coupon for $25 off their next service if performed before the end of the year in the form of a card (pictured) attached to their turn-signal lever encouraging them to buckle up to return safely.
Take advantage if you can. Also on offer is a free seatbelt cutter promoting the safety message, available to qualifying customers. If you're through the area regularly, stop in and ask about that offer. You can look up information on the dealers via the Sioux City Truck Sales website.