Did you know the daughter of New England Motor Freight Chairman and CEO Myron Shevell also happens to hold the distinction of being engaged to none other than famous Beatle Sir Paul McCartney?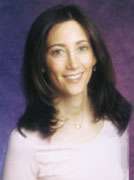 It's true, at least if we are to believe the New York Observer, who published a story about Shevell (pictured) and her engagement to McCartney last week. Check out the Observer story to hear how Shevell came to be where she is today, including some background on the trucking company, where she has served as Vice President of Administration since 1986. Just as Paul's marriage history is anything but squeaky clean, the Elizabeth, New Jersey-based LTL carrier's long story features mob-tie inquires from the feds in the late 1980s, which were settled without any official admission of wrongdoing.
In any case, a fascinating story. Read it in full here.
Shevell and McCartney became engaged May 6 this year. Their wedding will reportedly be held in London. For the last 10 years, Shevell has also served as a committee chairman for the New York Metropolitan Transit Authority.