Growing for a long moment, the Operation Roger network of volunteer haulers making themselves available to connect adopted pets with new caretakers — or to reunite lost pets with their owners — free of any charge got some ink this month. The MSNBC cable network did a story on them, and we're happy to report they remain strong, having made since 2005 nearly 600 such connections.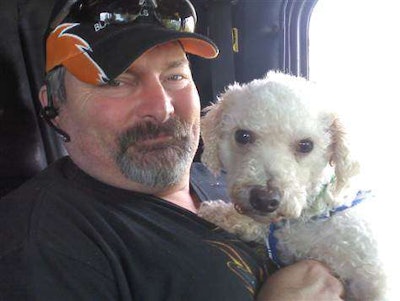 Laura T. Coffey's story began with a profile of hauler Sean Kiel, 46 (click on the thumbnail pic of him here to read the full story), who when she talked with him had just finished a delivery of a "white Bichon Frise he helped rescue from a dark life in a puppy mill," Coffey wrote.
Founded by now-former driver Sue Wiese, Operation Roger emerged from coverage of the plight of Gulf Coast pets in the wake of Hurricane Katrina in 2005. Wiese, determined to do something to make a difference, enlisted several driver friends and built a website dedicated to making further connections with animal lovers among the driving corps around the nation.
Kiel is a relatively new member of the network, Coffey wrote, also profiling Michigan-based hauler Robert Montagna, in whom the dedication of the driver volunteers with Operation Roger is well evident. "I just love doing this," he told Coffey. "I always say that if I won a big lottery, I'd buy a big RV and I'd call Sue up and say, 'Where's the dog at? I'll deliver it.' And after that, I'd call her and say, 'OK, where's the next dog at?' I'd just keep doing this all over the country."
It's a nice story, one that also details a South Carolina-based operation called "Pilot N Paws" with a similar mission but centered around airplane pilots rather than truck drivers, and Susanne Spirit's dog adoption program, which I've written about here in Channel 19, in conjunction with her shows in Ontario, Calif., at the TA. For details on how to get involved with any of the efforts, read Coffey's full story.
And for some of our past coverage of the efforts, check out Truckers News' "Truckers' Best Friends" cover story from December 2010. And for some firsthand accounts of the best dogs on the highways, peruse Overdrive Retro's latest features.