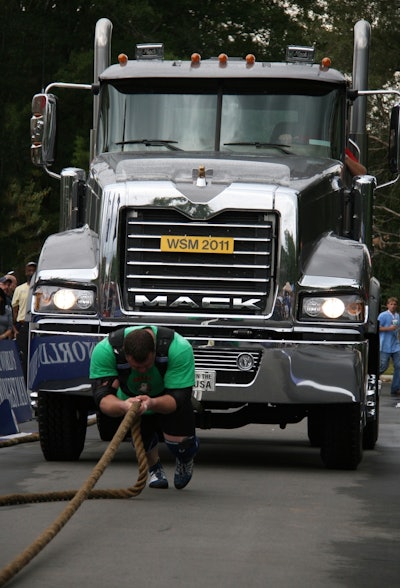 They've called it the "most powerful truck Mack has ever built." Powered by the Mack MP10 engine with a top rating of 605 hp and 2,060 lb.-ft. of torque, the Titan (pictured) was "engineered for handling the toughest jobs in the most extreme conditions – oil fields, logging, heavy equipment hauling," says company spokesman John Walsh. "It doesn't flinch in rugged terrain or brutal weather."
And now, care of the "World's Strongest Man" competition, held in Charlotte, N.C., at Wingate University, in the last week of November, that most powerful truck met the world's most powerful men. The "truck-pull" showdown was the final of this year's competition, and athletes had to pull all 22,000 lbs. of the tractor over a distance of almost 30 yards. The winner, Hapfor Julius Bjornsson of Iceland, pulled it that distance in the shortest time.
What does a human truck-pull look like in action? Well, here's a YouTube vid of strongman Derek Poundstone pulling the truck in the 2009 event. Unless you've been doing some serious weight and cardio training, I wouldn't try this at home, folks. If perhaps you have, well, next time you're stuck in a driveway with a fresh load of gravel on it (I'm thinking about you, Mustang Mike Crawford), here's an idea. . .
[youtube PFPZkOF78xY nolink]