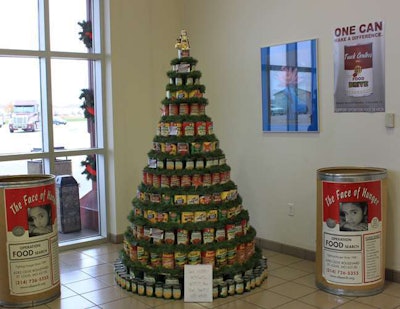 Freightliner/Western Star dealer network Truck Centers Inc. recently hosted a first-ever food drive for the St. Louis area's largest food suppliers for shelters and food banks, Operation Food Search (OFS). The company's Troy, Ill., headquarters kicked off a one-month can drive for OFS, also a TCI customer since the recent economic downturn has resulted in a 20 percent increase in the demand for the organization's services, especially during this holiday season.
In one short month, the Troy TCI team was able to prove that "One Can Make a Difference" by collecting 1,559 cans for donation to Operation Food Search. The executive team provided 397 large gallon and family-sized cans that were displayed in a Christmas tree in the Service lobby (pictured), and team members donated 1,162 cans that will each receive a $1 match from TCI for an additional $1,162 for Operation Food Search's ongoing service to the area's needy.
TCI (find them on Facebook here) also added a little friendly competition between departments for the highest average cans per department member with the winning team receiving a $10 gift card for each team member or the opportunity to also donate the winnings to OFS. The 26 men and women of the Troy Body Shop took the win, donating an average of 14.77 cans per person. Body Shop Manager Kent Zobrist also went above and beyond to reward his team by covering the donation for their proceeds to benefit OFS while the team members are also able to receive their gift cards.
Each month, Operation Food Search distributes more than 2 million pounds of food and necessities to 265 food pantries, soup kitchens and homeless shelters in 31 Missouri and Illinois counties. Their efforts help feed approximately 150,000 people every month and nearly half of those recipients are children. In fact, 135,000 children in the St. Louis area are at risk for hunger — that is enough to fill Busch Stadium three times.