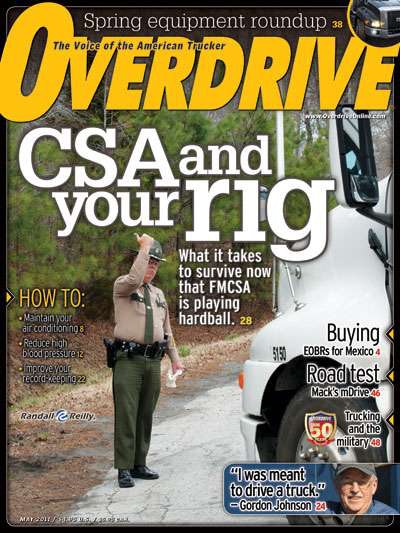 Overdrive editor Max Heine and I are doing a little air-trucking this afternoon to NYC for the Jesse H. Neal awards banquet put on by American Business Media. My two-part feature on the Compliance, Safety, Accountability program of the Federal Motor Carrier Safety Administration is one of three finalists in the Best Series category for 2011. The banquet, scheduled for Friday, will see winners in several categories announced.
The CSA stories, which you may recall and can access in our digital magazine archives here and here, ran through owner-operators' reactions to the then newly live safety enforcement and rating regime and offered strategies toward effectively dealing with the issues raised by the program, among them the boosted accountability it seeks to lend to individual operators' safety performance.
As a writer and editor, recognition such as this is always nice, but what you and I know too well is that such reporting is nothing without the primary sources and regular reader input that underpin it. Here's a big thanks to all of you, who've contributed both directly and indirectly to my sense of the trucking world over the last six years, and particularly as it regards CSA and its effects where the rubber meets the road.
I know such contributions will continue. Keep the feedback, tips and tales coming this way. And wish us a little luck tomorrow. . .