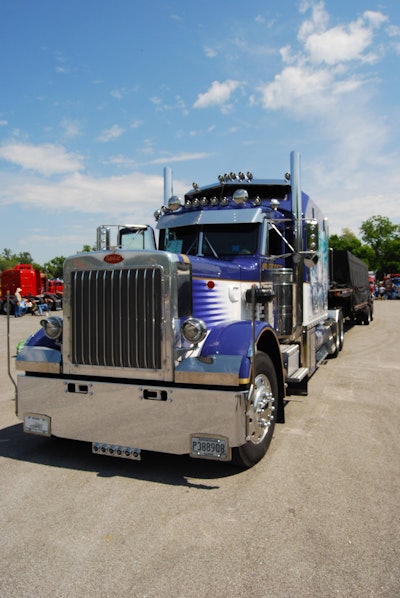 Just as I was wrapping up my time at the Southeastern Regional Truck Show this past Saturday, April 14, what would pull into the lot at Knoxville, Tenn.'s Chilhowee Park on East Magnolia but this stupendous custom 1984 Peterbilt 359, the usually heavy-hauling (he had on a load of pallets Saturday) Working Class of Harvard, Ill.-based Colin Stuart.
Stuart was on hand with trucking troubadour Leland Martin, who performed Saturday afternoon and whose latest record is something of a tribute to Stuart, a longtime 359 fanatic (all of his four-truck Offset System Service hauling & rigging operation's trucks are show-quality 359s). As I've written here before, Martin and Stuart met at a past edition of the Walcott Truckers Jamboree at Iowa 80, forming a friendship to last. Martin wrote the "Workin' Class" title track of his record in homage to Stuart, and the rest is history.
Stuart conceived of the truck way back in the late 1970s as a young Pete 359 enthusiast likewise enthralled by the then-relatively-new Kenworth Aerodyne sleeper design — he did an artistic rendering of his dream truck, a combination of the two, in that time period. Decades passed, during which Stuart learned his way around a rig (and an airbursh, he says). With his offset-printing-service business going gangbusters mid-last decade, he finally decided to make his dream a reality. He found the base 359, bought two Aero 1 sleepers from 4 State Trucks in Joplin, Mo., and began the process of building what would become Working Class.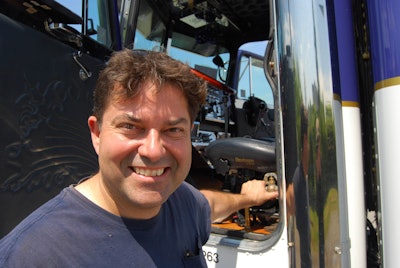 Among the many highlights of Stuart's rig, which he drives approximately 80,000 miles yearly on mostly specialized, oversize hauls, is the custom engineering it took to turn a short-hood 359 with a 56-inch flattop sleeper into a long-wheelbase extended hood in part by extending the cowl out to allow the air intakes to pipe in through it and double-framing some of the last 359 frame rails in Denton, Texas, from front to back. And that's not to mention the interior, with all-digital gauges (he won the "Most Technologically Advanced Cab" category in the beauty show at Mid-America in 2011) and a sleeper whose interior was appointed by Stuart himself (pictured) with Menard's lumber — and a little extra help from a Home Depot installer for the kitchen countertop.
With the sleeper mostly finished, Stuart says, the installer got a bit of a treat, calling it "the coolest job" he'd ever been a part of. I'd say so.
In any case, enjoy the pics of the rig in the gallery below, and look forward to further reporting on it down the line.