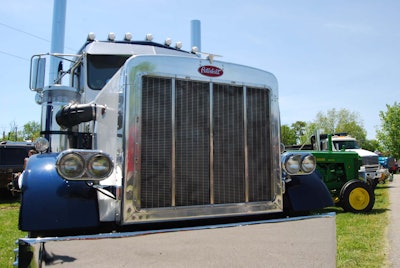 Tom Crawford, owner and operator of the Farmer's Market in Cashiers in far Western North Carolina, showed this custom-restored 1975 Peterbilt 359 flatbed daycab, outfitted with Michelin wide singles on the single axle rear end, at the Southeastern Regional Truck Show in Knoxville April 13 and 14. It was one among many I saw there that, well, I'd never seen anything quite like before. You?
Before he began the custom restore on it, the unit, powered by a Cummins 400, had a small sleeper that he removed, Crawford putting on aftermarket breathers and doing two weeks' worth of mechanical work himself.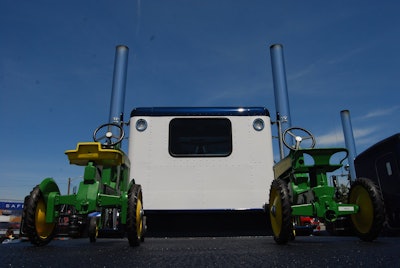 Also a collector and restorer of antique farm tractors, Crawford says the truck is invaluable for hauling products from his farm fields to the market – "I can put four pallets of fresh tomatoes on the flatbed and the Cummins 400 doesn't even know it's there" – and a fifth-wheel hitch embedded in the bed comes in handy toting his heavy tractors to farm equipment shows. Among the John Deere units he also showed in Knoxville were a 1953 R Model and a 1955 80.
Body work and paint on the truck was performed and laid by Ronnie Milford of Milford's Body Shop in Carnesville, Ga., and Rollin-S-Trailers built the flatbed body.
And the toys on the flatbed make for a sweet little display, don't you think? Enjoy more views of the rig below.