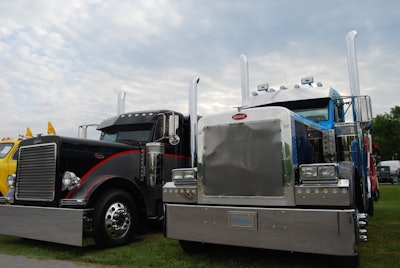 The combination of the J&S Truck and Trailer Sales dealer in Knoxville, Tenn., and J&S Body Shop, run by Benny Coffey in nearby Corryton, showed these two newly restored / customized Petes at the Southeastern Regional Truck Show in Knoxville last month. They're lookers, that's certain, and both on sale at the J&S sales installation at 2816 John Deer Dr. in Knoxville.
The sleeper truck on the left is a 2005 Peterbilt 379 extended hood with 550,000 miles on it. "It was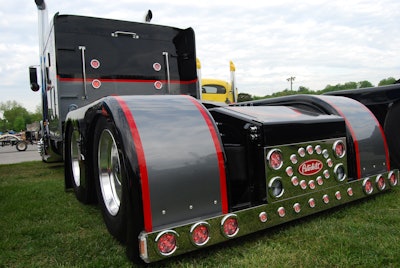 a stand-up sleeper before we took the top off," says Coffey, and gave it the nicely rounded flattop look it has today. Coffey opened the body shop to do collision and custom work just last November, he says. "I was at the Volvo dealership for 22 years," and he worked for another independent following that.
Both trucks are his shop's handiwork, and feature custom fabrication, Truckmate bumpers and some Roadworks stainless throughout.
The 2004 379 daycab has only 69,000 original miles, and both are powered by 475-hp Caterpillar engines — find more views of the rigs in the gallery below. Look up J&S via their main website here.