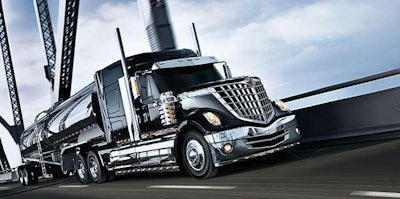 The focus on innovation in interior comfort and making room for driver health whose result was the premium interior of the International LoneStar 72-inch sleeper cab's design is continuing for Navistar, says company Director of Innovation and Design David Allendorph. We talked yesterday about said focus in work that's fueling the fleet and owner-operator trucks of the future.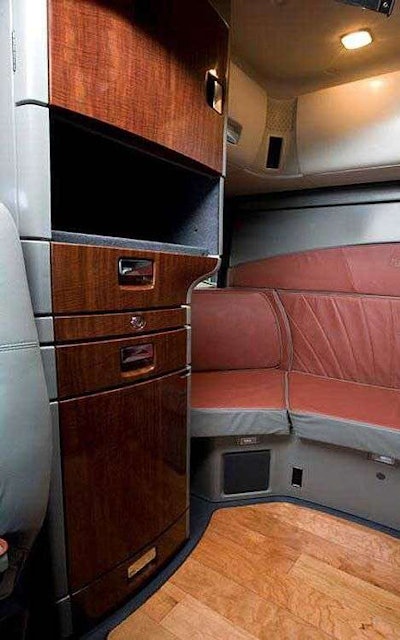 "As part of the design process," said Allendorph, "we go out and talk extensively with users." Developing the LoneStar's premium interior resulted in part from feedback generated from within Navistar's longtime partnership with Carnegie Mellon University in Pittsburgh, a story told in part here. "We send the students out on design projects. They've been instrumental in helping us 'infiltrate,' if you will, the road out there. Students are shameless and unafraid. They get invited into all kinds of interesting environments and document those conversations — we then try to dive down and really understand the life of the truck driver to then design interiors to help that lifestyle."
Health was a big concern that kept cropping up in the years leading into the LoneStar's release, Allendorph said. The LoneStar sleeper's Murphy-type bed folds up to open space for cooking in the galley kitchen and more, with secure storage cabinets optimized to leave open center floor space intended to allow drivers to "do some situps or pushups in the comfort of your cab – to have that space to do a little bit of stretching."
Since it came out, he added, the company's made the premium setup available on the ProStar, too, in the high-rise setup. In the near future, to fit the profusion of regional operations, the trim levels and spacious features are likely to extend to shorter-model sleepers as well.
Other products in development/trends he noted:
Back-of-cab-mounted bike rack:  "We looked at a design for a cab-mounted bike rack, which we haven't addressed in production yet," something that would likely be available when spec'ing new or as an all-makes aftermarket add-on.
New interiors: "Our interiors have been around a little while — we're always looking at seats and partnering with seat manufacturers to put out a better seat." Allendorph also referenced attention to the ergonomics of steering-wheel-mounted controls and all "the driver contact areas – how does the vehicle feel? When you're in the seat for 8-10 hours a day, it's got to be comfortable."
Heated/cooled seats: Allendorph pointed beyond just this feature, already available in some aftermarket seats, to the automotive industry generally — where new things are happening there, you can expect them to follow in heavy-duty trucks. "Some of the mattress manufacturers are coming up with heated and cooled mattresses," Allendorph said, "anything to keep the driver comfortable, keep the blood flowing  — those are easy trends to extrapolate into the commercial truck market."
200 is a big number
It's also a pretty good estimate of how many times heavy-duty trucks have been misguided by their GPS units down non-truck routes in New York City, Long Island and Westchester County in the state before having that oh-so-embarrassing of accidents: getting stuck under or otherwise hitting a low bridge.
Pretty costly, too, and not just for the owner-operator or the driver's fleet. New York Senator Charles Schumer wrote Ray LaHood to request review of potential regulation of truck-specific GPS units on the market. Furthermore, citing DOT data, a Bloomberg story on the news noted, nationwide, a total of "15,000 bridge strikes by all types of vehicles in 2010, resulting in 214 deaths and 3,000 injuries."
Having a GPS unit is no excuse for lack of preplanning. If your GPS doesn't have up-to-date truck route/bridge-height data, pull the rig on over and look up restrictions the old-fashioned way.
In the end, of course, clearly marked and/or restricted-route bridges are well avoidable: an old adage rings true — "stupid is as stupid does," eh?