If you follow PGA tour golf, it's likely you're familiar with the season-long FedEx Cup competition, which this year paid out a $10 million bonus in earnings to Nashville, Tenn., resident Brandt Snedeker after his win at the East Lake Golf Club in Atlanta back in September. With Coca-Cola sponsoring the season-ending Tour Championship match there, Snedeker also came away from the event the proud owner of a vintage Coke machine and a year's supply of the soft drink.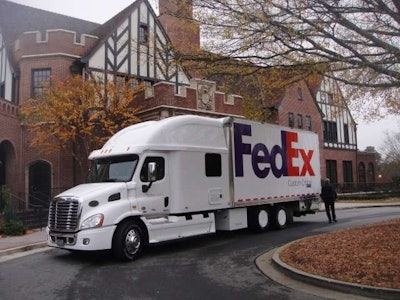 Here's where expediters Linda and Bob Caffee, owner-operators of the pictured 2012 FedEx Custom Critical-leased Freightliner Cascadia come in. In an email to me last week, Linda sent along the pictures in the gallery below showing this most odd of odd loads, something of a regular feature of expediting, as it were. "We delivered an antique coke machine to Brandt Snedeker," Linda wrote. "We picked up the machine at the East Lake Golf Course in Atlanta and delivered the machine to his home in Nashville, Tenn. What a nice guy!"
Asked what he'd be doing with that bonus $10 million by the Associated Press upon winning the FedEx Cup, Snedeker noted he thought "we can make a difference and help a lot of people out in Nashville and Tennessee and the surrounding areas." (Hey Brandt, I know a trucking journalist in Nashville who might well be able to help you out there…)
Enjoy the pictures. You may well recognize the Caffees from my feature on the owner-operator-heavy expedited trucking industry segment, covering operational specifics, equipment, leasing carriers, pay and other aspects. It ran here last week and is available in two parts here and here.
More pictures of the Caffees and their equipment you'll find in both parts.