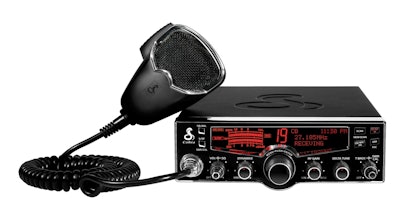 In case it was unclear, Michael Smothers of the Illinois newspaper the Pekin Daily Times wants you to know that his state's codification of the federal rules prohibiting handheld "mobile communications device" use by commercial drivers behind the wheel does not apply to the good old citizen's band radio.
CBs went the way of other "trends of the 1970s," Smothers writes, fading "as the decades passed" like "orange shag carpeting and leisure suits." With the handheld cell regs codified and the CB not included in their definition of "mobile communications device," he says, "the CB microphone may be back in the trucker's hand."
Did it ever leave?
While Smothers implies some kind of popular resurgence of the radio with his headline — "Truckers may fuel CB comeback" — his story only suggests the CB's exemption from the regs means more truckers will use it. I know it's common to turn it off in certain areas, but to this day I don't think I can say I've even met a self-respecting long-hauler that didn't have one. Have you?
Thinking aloud, as it were, presumably handheld-cell-use regs are applied similarly to four-wheelers running down the road with CBs in jurisdictions where handheld use is banned for them, too. (I certainly hope so, and it bears saying that one four-wheeler does not a popular resurgence make.)
Though GPS-enabled phones make it at least possible to locate haulers in buddy networks in whatever area you happen to be running through when an emergency rises up, there is still no great substitute for what the CB does well, illustrated by this must-read on a couple more highway heroes:
A story at the website of the Owner-Operator Independent Drivers Association's Land Line magazine tells the dramatic story of Johnny Morris Farms (Hillsboro, Tenn.) driver Jim Lowe, who with a codriver and the assistance of other trucks on I-24 just north of the Georgia state line, created a rolling roadblock to rescue an abducted child earlier this month.
Without the broad use of the CB by on-highway haulers, would this kind of heroic act be possible? Maybe, but the coordinated effort of several drivers as well as law enforcement personnel that Lowe describes would most certainly have been a more dicey and decidedly less coordinated affair.
In any case, hats off the drivers for the effort, over…