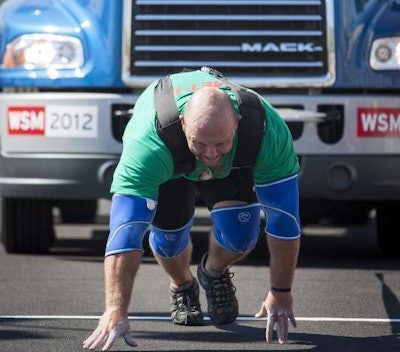 This year it was a Mack Pinnacle tractor — regular readers may well recall my post from December 2011 about the World's Strongest Man competition, in which one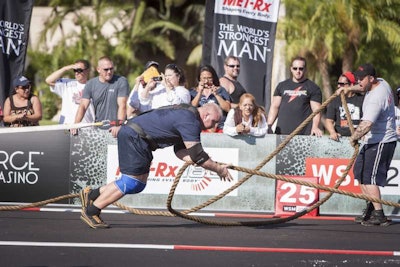 of the many qualifying events starred a Mack Titan; power lifters were charged with pulling the truck 30 meters, shortest time wins. This year the event, held at the Commerce Casino and other venues in Los Angeles, Calif., saw a repeat win by Iceland's Hapfor Bjornsson (pictured, right), finishing in 26.93 seconds.
"The Mack Pinnacle is an intimidating opponent even for the strongest men in the world," said Tracey Craik, fleet sales manager for TEC Equipment, Inc. in La Mirada, Calif. "When the event organizers approached us for a truck to use in the contest, our first recommendation was the Mack Pinnacle model because of the truck's big power, strength and durability – all the right elements to test the World's Strongest Man."
Wondering what's up for next year? Me too. I vote for a vintage B61, with trailer!