It's not the only driver-focused event happening on Friday (don't miss FMCSA's new-driver training standards listening session, requesting your viewpoints beginning at 1 p.m. and moving on through 5 p.m. in room C101, likewise the Trucking Solutions Group's health walk starting in B101 at 2 p.m.), but it's got my attention, for sure.
Meredith Ochs and Chris T. of the Freewheelin' show on Sirius XM Road Dog Trucking Radio Channel 106 will be conducting an on-air wedding at the PanaPacific booth at noon Friday, March 22. The happy nuptial pair, OTR hauler Kevin Young and his ridealong fiancee Shannon Mann, "will tie the knot live on the air with Road Dogs tuning in from all over North America," Ochs wrote in a release recently. "After the ceremony, Freewheelin' will set up a 'receiving' area for the newlyweds to sit, relax and get advice — on the air — from other truckin' couples who've made their marriages work."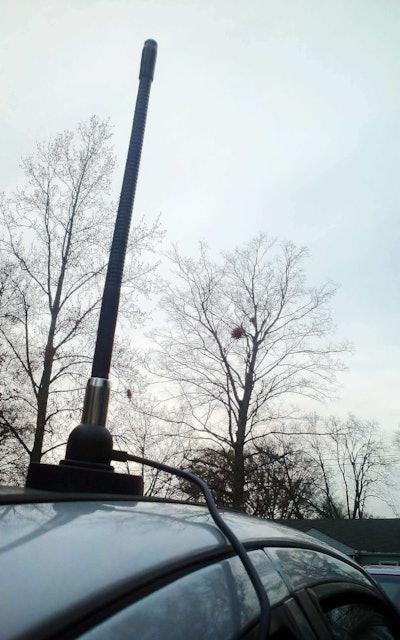 Gifts will be given as well (the couple is registered at WalMart), Ochs wrote, "so we can send them down the road ready to start their life together as truckin' man and wife."
If you're wondering about who will officiate, well — Meredith Ochs herself: "I'm an ordained non-denominational minister and I'll be marrying them."
Will you be there? Hope to see you there or elsewhere throughout the show (keep tuned to OverdriveOnline.com and/or our Facebook page for news from the truck makers, suppliers and service providers at the show through Saturday whether you can make it or not). If you're hauling up I-65 between Nashville and Louisville this afternoon, watch for a silver little four-wheeler with a CB antenna out the driver-side window on the roof. Put a shout-out to Ghostwriter should you see him. I ought to have ears on. Over…
For a good round-up of events out in the parking lot on and around the OOIDA stage, check out this piece via Land Line.
Follow me on Twitter (@channel19todd) to sit in on some of the press conferences I'll be attending Wednesday and Thursday, and for other updates from the show.