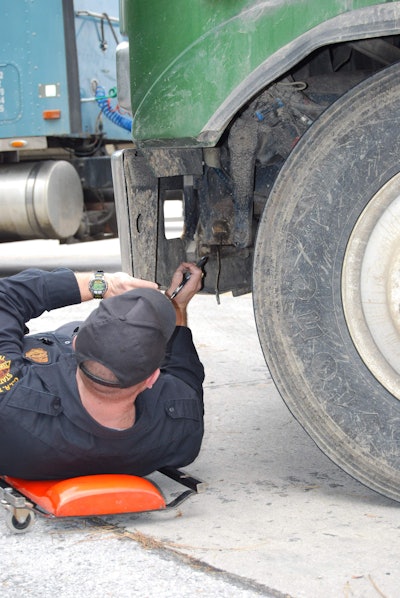 The Federal Motor Carrier Safety Administration no doubt has its work cut out for it dealing in any way with the problem of stacked violations, which I wrote about in relation specifically to lights here. In that post was referenced an FMCSA effort with the Commercial Vehicle Safety Alliance ongoing to reprogram software to prevent stacked violations from contributing to carriers' and drives' Compliance, Safety, Accountability numbers, if not from being written in the first place. Kurt Keilhofer asked this great question: "So if the federal guideline is to not stack these violations, why aren't the offending officers/inspectors being fined?"
A few commenters offered other examples of stacking.
Air system
From "Aglaw": Stacking, in general, is a huge problem here in Texas. I had one of my units get nailed by the City of Houston with an air leak that had developed from a crack in the service (blue) line at the gladhand. Naturally, this audible air leak (only with service brakes applied) is an out-of-service order and major violation — albeit one that can appear randomly. Our unit did have a violation, and it was fixed on-site. I don't dispute what was found. However, there was another "stacked" violation stemming from this one defect. The officer went on to issue a second out-of-service order for an air-compressor violation. This was a Level 1 inspection, and the air compressor was therefore unable to maintain air pressure with the engine at idle, parking brakes released, and service brakes applied — "Excessive air loss rate, pressure not maintained when service brakes are applied."
This was one identifiable problem (a crack in the coiled service hose) with two violations issued in relation to that one identifiable problem. Since both violations were issued as criminal citations (tickets), we were successful at trial in having one of the citations dismissed under the "double jeopardy" rule. However, CSA is a whole other matter. When violations are disputed in a DataQ, FMCSA simply sends the matter to the state agency (in this case, TxDPS), who then forwards it to the issuing department (in this case, HPD), who has the very same inspector/officer "rubber stamp" the "no change" determination.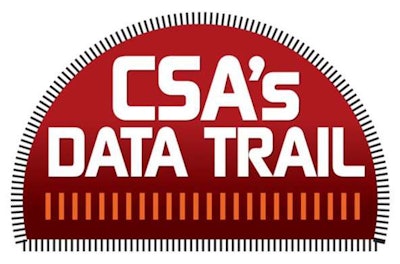 ABS system
From "safetygirl": We recently got a malfunctioning ABS system on a tractor. We were written for no ABS indicator light, malfunctioning ABS system on tractor, no ABS on trailer one, and no ABS on trailer two — a total four violations. Only one was OOS, but still… The problem was evident. I did not realize there was any standard against stacking. Now I have some ammo, though I'm afraid it's not much comfort. Two of my drivers have been told by inspectors in Idaho that the company is being targeted because we got one deleted through the [DataQs] process. It's hearsay, of course, but I have the maintenance score to back it up. I had another report out of the Tri-Cities area of a scale cop telling a driver they were irritated that one of our drivers got out of a certain violation, so he was sticking it to us every chance he got. A system which allows this is a flawed system. I used to sense a certain camaraderie and rapport between driver and patroller. That relationship is fast disappearing with over-regulation. Enforcers are overwhelmed with intricate systems and rules they can't possibly remember. (They did not become cops to correct homework and measure truck parts.) And drivers are seeing them as the enemy more and more.
Securement
Also from "Aglaw": I also see egregious stacking with regard to load securement violations. Our company hauls perishable sod from the field to the end customer, and I occasionally see violations with regard to "loose" tie-downs. I could argue that those are simply violations based on discretionary interpretation. Unfortunately, you will almost always find that one loose or defective (frayed) tie-down violation will have attached to it a separate violation for a "lack of required tie-downs." The system has become a farce–that of a numbers game to grab the almighty dollar.