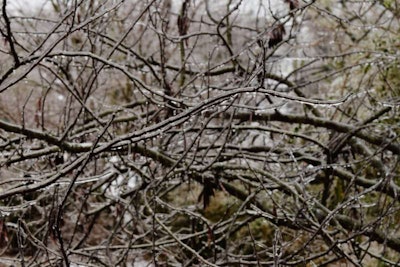 Here's a happy President's Day to you, drivers — don't know what it's like where you are, but here in Middle Tennessee, as they like to call it, the promised 5-8 inches of snow we heard so much about in the last few days has materialized in something of a different form, as you can see in the above shot out the back of my office. As of this moment, about 11 a.m. CST, though I've heard reports of a lot of the white stuff just 45 miles or so north of Nashville in Kentucky, it is raining pretty steadily, that rain giving everything, including the side roads around the neighborhood here, a good quarter-inch or thicker coating of solid ice.
Stay safe along I-40, and be particularly vigilant overnight and in the early morning, not that you need reminding, particularly. As always, we're sharing updates from state DOTs about conditions and/or any closures that crop up as we see them via my own and the @OverdriveUpdate twitter feed.
Got a wintry photo from the mid-South or Midwest today (or, hey, we haven't forgotten about you buried Mass. haulers up there either — stay warm!), drop it in our photo gallery at this link. I'll add shots to this post as they come in.
No. 1, from Don Lanier, titled quite simply "The ice road," a view from I-30 in Arkansas: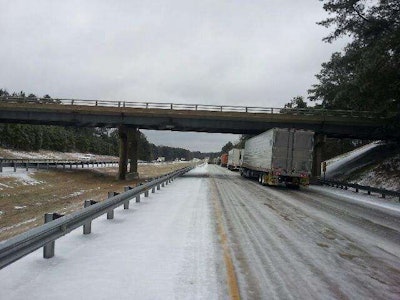 No. 2: "The ice road, 2":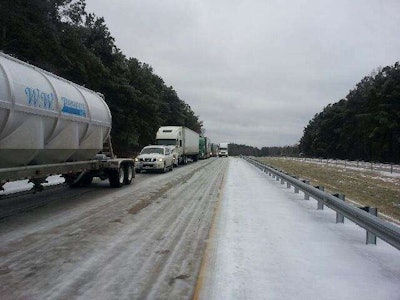 No. 3: "Best place to be," notes Roger Acker of this shot of his 2008 Peterbilt 386 out of the melee at home in Owensboro, Ky.: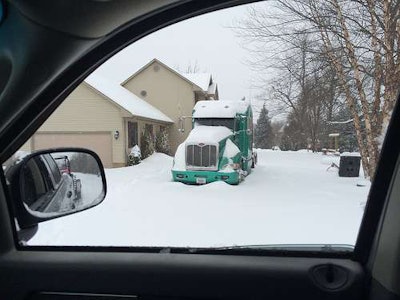 Stay safet across the midwest/mid-south. RT @weatherchannel: Already 4-9"+ so far across Mid-MS Valley & #Kentucky pic.twitter.com/tIR9wmudCK

— Overdrive Magazine (@OverdriveUpdate) February 16, 2015
RT @ODOT_SEOhio: Let the #snowfight begin! 100+ plows treating highways and bridges. pic.twitter.com/eTe8lld31M

— Todd Dills (@channel19todd) February 16, 2015
RT @MarkNagiTDOT: Video: I-75 North near MM 127 in Anderson County… Freezing rain coming down, slushy conditions .. pic.twitter.com/Rm4l3BgeAy

— Overdrive Magazine (@OverdriveUpdate) February 16, 2015
RT @KSP952: Downtown Benton, KY, @kystatepolice pic.twitter.com/BzTkpDc6E8

— Overdrive Magazine (@OverdriveUpdate) February 16, 2015
RT @weatherchannel: #Kentucky #snow – #Octavia #KYwx RT@austinday101 The Natcher Parkway this morning @joeimel pic.twitter.com/iN3NmJbDG9

— Overdrive Magazine (@OverdriveUpdate) February 16, 2015
RT @weatherchannel: LIVE Updates: Track the #snow & #ice … : https://t.co/RfQTEPnwaE #Octavia #FreezingRain pic.twitter.com/prXLLQtlgk

— Overdrive Magazine (@OverdriveUpdate) February 16, 2015