The TruckersFinalMile nonprofit organization is fairly well-known among drivers for its mission to assist trucking families in the most dire of circumstances — its mission is to help those needing the assistance to "reunite truck drivers and their families in the event of death, debilitating injury or serious illness." A recent case illustrated a specific need for the charity — at a Gallup, N.M., truck stop, a brain hemorrhage took the life of a trucker, who ended up in the care of an area funeral home. In order to assist the family in bringing him home to California, the nonprofit took to Facebook to help gather the nearly $3,000 needed on Friday, Dec. 2.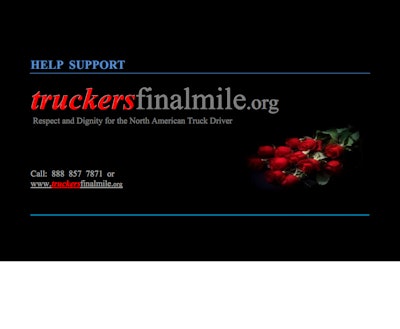 Local television in Albuquerque broadcast the group's efforts, and with just $1,600 remaining toward the goal a day later, four trucking singer-songwriters got to talking about the case. One of them, Paul Marhoefer, has donated part of his songwriting's proceeds to the TruckersFinalMile organization in the past, and it was Marhoefer who told me about an effort ongoing, a collaboration between himself and three others regular readers will well know — Brad James, Tony Justice and Bill Weaver.
Each of the four is offering up a variety of auction items via their Facebook pages, proceeds from which will go to TruckersFinaleMile.org. As the organization posted late yesterday, after Tony Justice started things off by auctioning the first guitar he ever purchased, the specific goal for get the driver home from Gallup was reached, but today, Marhoefer continued the efforts of the songwriters with this post, expanding the auction beyond the short-term goal to the organization broadly:
If you'd like to bid on the CDs and bonuses he mentions here, place your bid in the comments under the original post. At last tally, looks like Tony Justice himself held the lead at $175. Or, as Marhoefer notes, if you've had a particularly good year, just make a donation direct to Truckers Final Mile, a worthy charity no doubt, via this link.
The collaborative auction effort will continue through Wednesday this week, with Brad James stepping in tomorrow with auction items and Bill Weaver rounding it all out on Wednesday.
Read more about the songwriters, and Truckers Final Mile, via the links below to prior coverage: