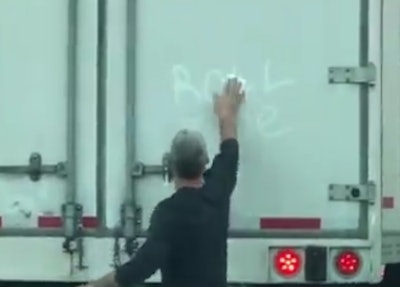 With the college football national championship tonight featuring a rematch from last year's championship game between the Alabama Crimson Tide and Clemson Tigers, team pride has found its way into the day-to-day of highway hauling. This video, posted to Facebook — and with a tip of the hat to 247sports.com — shows that, though their season is over, Tennessee fans are looking forward to next year when, as in every year, they'll get their chance to redeem themselves against the Tide.
Keep the trailer clean, and if not, keep your eyes on the mirrors stuck in traffic, drivers.
Speaking of football, Atlanta-based owner-operator Rico Muhammad, host of the Rates & Lanes podcast on Kevin Rutherford's Audio Road and a longtime Clemson Tigers fan, was one of the few selected through a lottery for a chance to buy tickets to the game tonight, taking place down in Tampa, at face value. He let the message notifying him of his chance sit in his email too long, though. When he finally realized he'd come out on the positive side of the lottery, it was too late, subsequently providing a lesson in missed opportunity. Face-value tix started at $450 this year, though seats in various quarters (including those far in the air from the action) as of today were being advertised at no less than around $1,600 and as high as $18,000 on Stubhub and other outlets.
Here's hoping the week's starting off better for you than that. Go Vols?