The picture above shot up on my phone a couple nights ago from likewise independent flatbedder Joe Bielucki, who noted he'd met the rig's owner some time back and had been impressed with owner-operator Alex Prifti's back-to-basics approach (old-school as a general rule) and clear aptitude for success in trucking.
Prifti went out with his authority and a step deck earlier this year after some years of experience hauling frameless dump around the lower 48, close to the opposite of Bielucki's typical, mostly-within-100-air-miles short-haul steel runs in and around his Connecticut home base. (About which, a little more later.)
Ultimately, the two — more than 20 years separating the elder Bielucki, who's in his early 50s, from 1986-born Prifti — became friends talking at some of the antique truck shows and other times their paths crossed.
Prifti told me a bit of the story behind the classic 359, with origins in Pennsylvania.
As for Bielucki, regular readers may well recall his tour through the sleep apnea engine — I wrote about Bielucki's proactive step ahead of implementation of the National Registry of Certified Medical Examiners several years back. At that time, as he discovered through work with a sleep doc, he was in fact experiencing apnea and entered into CPAP treatment and focused on losing weight in hopes of mitigating the condition.
After later getting on a one-year re-up of his medical certification, often the reality for CDL holders who are using CPAP machines to treat apnea, Bielucki continued his efforts to lose weight to the point that, today, he says, he uses the machine no longer and is back to a two-year certification.
All of which proves, of course, it can be done, and his is not the only such story I've heard over the years.
Bielucki also got some good news in what "has been a weird year" for his flatbed business, he says, what with steel tariff announcements and implementation and ongoing shifts in freight patterns with steel coming into the Northeast from foreign and domestic mills, the latter of which Bielucki says have been churning out steel and moving it by rail and, soon for him, by barge. Some of those domestic mills — he spoke of one in particular in the Southeast — are getting "burned on the rail" costs and, next week, "the first barge is coming in with 75 loads," ultimately bound for a facility to which he hauls.
Incoming copper, too, is moving to the water ultimately bound for a wire mill he says is cranking back up in his area, after scant activity since the 2008 crash. He may be trucking some of that from the New Haven port in the near future, too, he says.
As always, the times they just keep on a'changin', eh?
A lot stays the same. On that note, here's a final shot of Prifti's rig: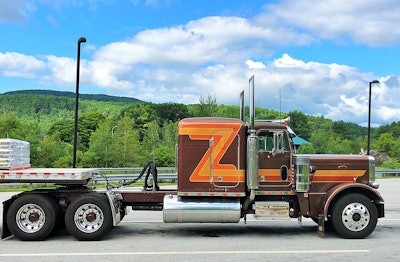 Stay safe out there …