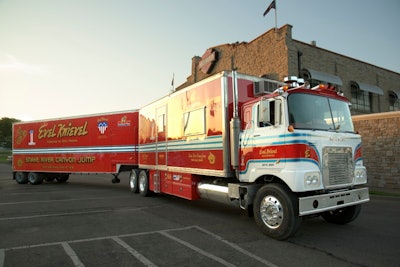 By the 1970s, with owner-operators' cultural currency well on the rise throughout the United States, Overdrive founder Mike Parkhurst increasingly found himself involved in a variety of non-magazine-related efforts, from film productions -- notably, later in the decade, Smokey & the Bandit -- and various other trucking entries in the annals of U.S. popular culture. Coverage of the intersections of pop culture and trucking became a staple of the magazine, too, perhaps nowhere more evident than in the February 1973 spotlight on and interview with one of the most famous people on the planet at the time -- motorcycle daredevil Evel Knievel.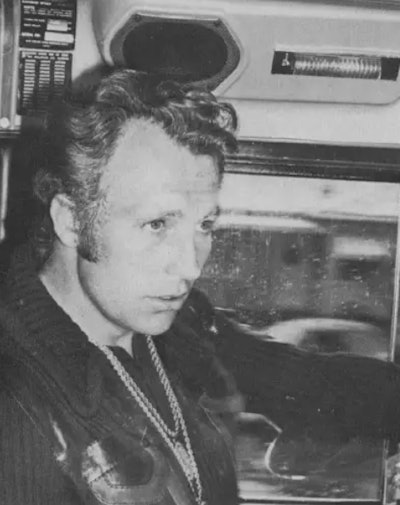 The story reveals the man known for beating death in spite of the odds. Describing the then-in-planning "SkyCycle" steam rocket-on-wheels jump over the Snake River Canyon in Idaho to Overdrive , Knievel had this to say: "I open the valve, let the water from the heater into the rocket, and when it drops from 500 [psi degrees] to 420, the engineer, Bob Truax, points at me. I'm looking right up the ramp over the canyon. I go at 350 miles an hour in eight seconds and hope like hell I get there. If I do, I drop down to both knees, grab a handful of dirt and thank God Almighty that I'm still alive. If I splat against the [canyon wall], I just get somewhere quicker where you're going someday and I'll wait for you. Dying is part of living."
He also spoke to the reality of touring in his endeavors, which through the years had involved more and more equipment and bigger and bigger diesels, by then a Kenworth cabover he'd driven some himself in earlier times.
Later on, as might be obvious from the picture at the top of this post, there was another haul rig -- a Mack that came to prominence again in the second decade of the 21st Century when former American Trucker TV host and trucking enthusiast extraordinaire Robb Mariani took to promoting a restoration project on the rig he helped locate among weeds in Florida for an episode of his show. (More on that mammoth, years-long effort next week.)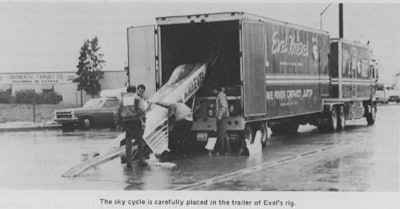 Mariani along the way resurfaced the Overdrive Knievel interview and managed to find one of two truck drivers Knievel employed around the time. When I talked to that driver, then-59-year-old, Wichita, Kansas-based medical equipment salesman Mike Draper, he'd been doing that work, traveling all over the state of Kansas in a four-wheeler, for around 16 years. Before that, he spent many years working as an officer with the Wichita Sheriff's office. But as a green 19-year-old working with Hugo Shea, owner of a series of Harley-Davidson dealerships around Oklahoma and Kansas, he lucked his way into the driving gig of a lifetime.
Daredevil Knievel had been driving his touring haul rig himself – with his wife and kids in tow – when Draper first met him at a promotional event at one of Shea's dealerships. "Shea had a Chevy Titan 90 semi that I drove," as well as another truck, he said, to move equipment and inventory around between dealerships and other locations.
Knievel asked Shea if he had someone who might be willing to drive the truck for him. Draper wasn't the only big-rig-capable hauler in the outfit, and ultimately Knievel got two drivers out of the deal, Draper and a man Draper taught to drive diesels himself, Lee Ratliff. Draper and Ratliff are both mentioned in the 1973 Overdrive interview of Knievel. The daredevil had kind words for both men.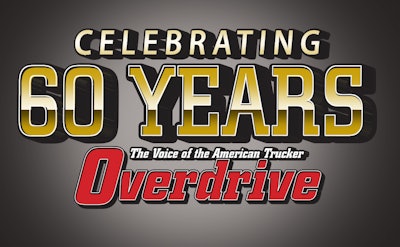 "Mike and Lee," Knievel told Overdrive in 1973 when asked about the drivers who kept up with the Kenworth's maintenance. "They're great guys. I never look at [the rig] because I know that it's going to be taken care of like I take care of it myself. They drive it all over the United States and they've never put a single scratch on it."
Draper told me in 2012 about witnessing an incident in Minneapolis where one of Knievel's planes was landed on a drag strip during one of his shows — "We had a trailer parked at the starting point of the drag strip with the back end of the trailer parked at the finish line, all the motorcycles lined up. Lee and I were at the back."
When the airplane landed "in the middle of the drag strip," Draper said, it was going too fast and blew its tires, "and he's coming right for us."
Fortunately, everyone emerged unscathed after impact — not so the trailer. "The plane didn't move the trailer one iota," said Draper. "There was no fire, no smoke, no nothing, but the plane was just a total wreck." And the trailer emerged with a gaping hole in it.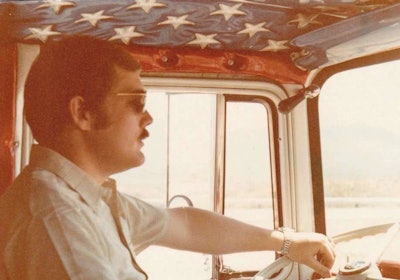 Knievel mentioned the incident as the "one accident" he'd had with his Kenworth in the Overdrive interview. He later "told everyone I was then going to fly a plane head-on into the tractor. I was told it would be very expensive."
When on tour in those days, Draper said, in the trailer "we used to haul three motorcycles, all the aluminum ramps," and one or more of Knievel's Cadillac station wagons and pickups, as well as the SkyCycle.
"He'd pay us twice a week," Draper added, "and for whatever we spent we'd turn in our receipts and he was good with reimbursements." The drivers were paid a salary of $500 a week, otherwise.
What was it like driving a truck for arguably the most famous man on the planet at the time?
"We never had to drive near as hard as most of the truck drivers, unless scheduling difficulties required it," Draper said. Nonetheless, the rig drew plenty of interaction with working long-haulers. "The truck stops we'd pull into – nobody saw many automatic transmissions on over-the-road trucks in those days," such as what was in the Mack. "And at that time nobody was putting that big a coach on the back of a semi truck" either, Draper added. "A lot of guys got to get in there and give it a look, too.
"It was quite an experience for a 19-year-old to start out with."
Draper drove for Knievel off an on through his mid-20s into the late 1970s.