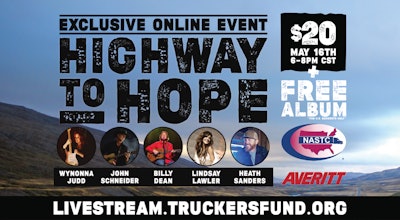 The St. Christopher Truckers Relief Fund, well-known to most of you, is hosting perhaps the biggest event in its history this coming weekend, as the banner image above shows. Regular readers probably saw the announcement a month or so ago. Singer-songwriter Wynonna Judd will headline a virtual concert also featuring none other than John "Truck On" Schneider, perhaps best known as Bo Duke from the old Dukes of Hazzard show. And: Billy Dean, Lindsay Lawler and Heath Sanders, all top-notch talent in their own rights.
Most importantly, taking center stage is the fund itself, which has been a big relief effort to a myriad of truck drivers and families in dire straits through the years – the counter on the organization's website, routinely updated, this morning noted the organization had delivered more than $3.5 million to 3,204 drivers throughout its long existence, all individuals and their families in the midst of a medical emergency that the heath-care and -insurance system, and social support structures, otherwise didn't alleviate. (That's around $11,000 per driver, for those of you who are counting, in many cases the money going to families to deal with bills while a trucking breadwinner was out of work with illness or injury.)
While the very need for the organization to exist some might point to as an indictment on our society or the industry itself – overpriced health care and insurance, inadequate company plans to cover the out-of-pocket costs, and so much more – I tend to think of it as an example of people just doing what's right when they see a need. With the virtual event this weekend, a substantial portion of the $20 ticket goes to the organization's mission. The SCF is putting one foot in front of the other like the gent in the famous Keep on Truckin' illustration, invoked by Wynonna in her talk in the video version of the Highway to Hope podcast that follows. The invocation came as part of her efforts to describe her affinity with the working men and women of America, most especially truck drivers. "You guys are the saviors of our world" in America, she said, enabling the life of plenty so many lead.
More important to that affinity, she added, is that the road itself "has taught me everything I need to know" – not the fame and the money she's made, her family or anything else. On the road, "sh** happens, every minute," and you learn to do just what her mom's old shirt dictated.
Move forward, one foot in front of the other.
The SCF also conducted interviews with Schneider, Dean, Lawler and Sanders all in preview for the big event upcoming. Find those via this link to the SCF website.
[Related: Tony Justice's new record featured on Overdrive's Music to Truck By]