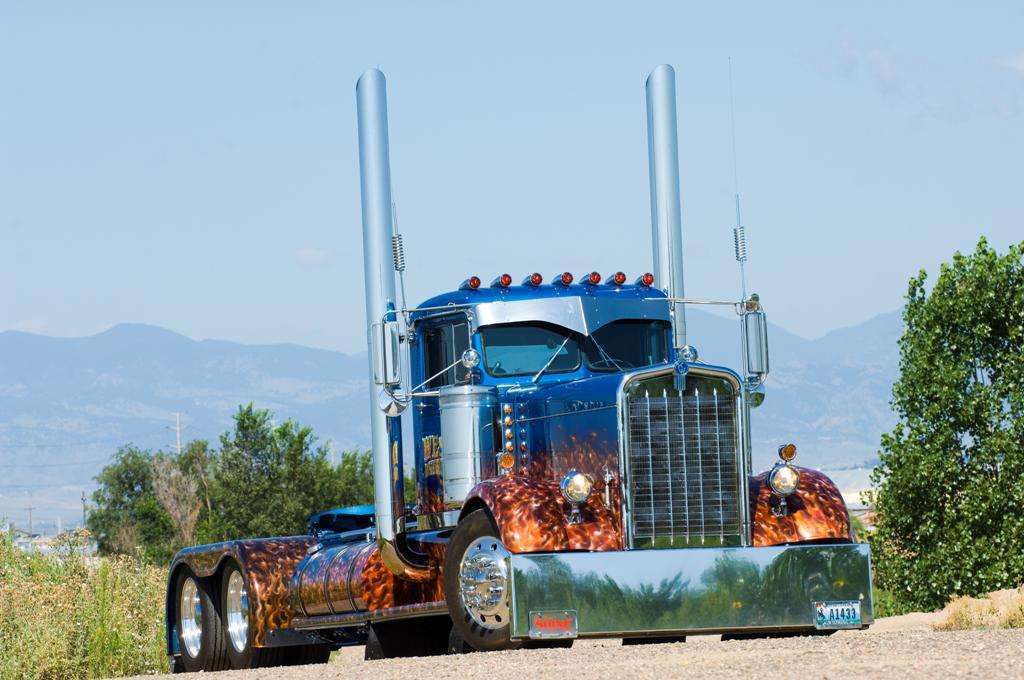 Dino Guadagni is no stranger to custom vehicle work, having been reared in the family that four generations ago founded Western Distributing and Transportation Corporation as the first distributor of Coors beer. Guadagni's father, Vieri Gaines, is a prominent NHRA Pro Stock driver and mechanic who had him and his two brothers "into cars and other stuff" from a young age.
Scroll down for full photo gallery of Inferno Joe, including photos before the rebuilding process.
But "I kind of took to the trucks," says Guadagni. His first was an antique 1953 Peterbilt he rebuilt from the ground up for his own personal truck – he runs about a load a week, he says, shuttling empty trailers from Western's yard in Colorado to customer facilities and dropping loaded trailers back at the yard.
"But I also wanted to do a Kenworth," he said, and he got his chance after saying so on Western's website (www.wdtc.net).
Washington State resident Linda Shanks called and told Guadagni about a 1954 Kenworth 524 her father had "always wanted to fix up, but he was getting on in age," She offered it to him and he eagerly accepted the challenge.
As it would turn out, the truck's original owner would get quite a treat in pictures of the custom-rebuilt unit, as Guadagni and crew did a number on it, working to answer this question with its design: "What would this 50-year-old truck look like if built today using its style while keeping my love of long, clean, smooth, uncluttered lines?"
They started by moving the cab, hood, grille, fenders and more over to a 1994 Kenworth chassis with front/rear air suspension and outfitted with a rebuilt 425-hp Cat 3406 backed by a 18-speed.
Old-school KW cabs were "shorter in height," says Guadagni, than current models, so after stripping the daycab and installing new sheet metal and floor, the crew "sunk buckets into the floor to lower the seats."
The entire interior superstructure was welded back together, the dash filled, and the exterior reworked to accentuate the long lines.
Of particular note are the custom running boards, which extend from the front fenders to the fuel tanks and on into the tank skirts. The smooth metal acts as an artist's applet to seamlessly carry a uniquely airbrushed flame pattern from the fenders all the way down the length of the frame.
The truck was painted a custom color Guadagni calls "Western Blue" by Denver-based Diversified Body & Paint,. Then long-time friend Johnny Pugh, who painted Guadagni's 1953 Pete, Miss Behavin', handled the air-brush artistry.
Pugh (www.artofjohnpugh.com) is a Denver native known for his public murals and air-brush work on drag-racers, motorcycles and big rigs.
"Johnny beat me up about wanting to do a flame job on something large," Guadagni says. "This was an idea he wanted to do real bad. But I didn't have a bunch of money for graphics on this one. So we made a deal."
During the painting process Pugh asked Guadagni what his CB handle was, and Guadagni replied, "Hotshot."
The handle came from when Guadagni first started shuttling trailers for his father's company and his impressive acumen for backing the rigs into tight loading docks.
"When other companies came to our warehouse and took forever to get backed in," recalls Guadagni, "my dad and his friends would say, 'Hey Hotshot, we ain't got all day — go show them how to do it.'"
Pugh heard this story and said, simply, "Interesting. Well, you're no longer Hotshot – you're Inferno Joe now."
And that, of course, is where this old KW got her name.