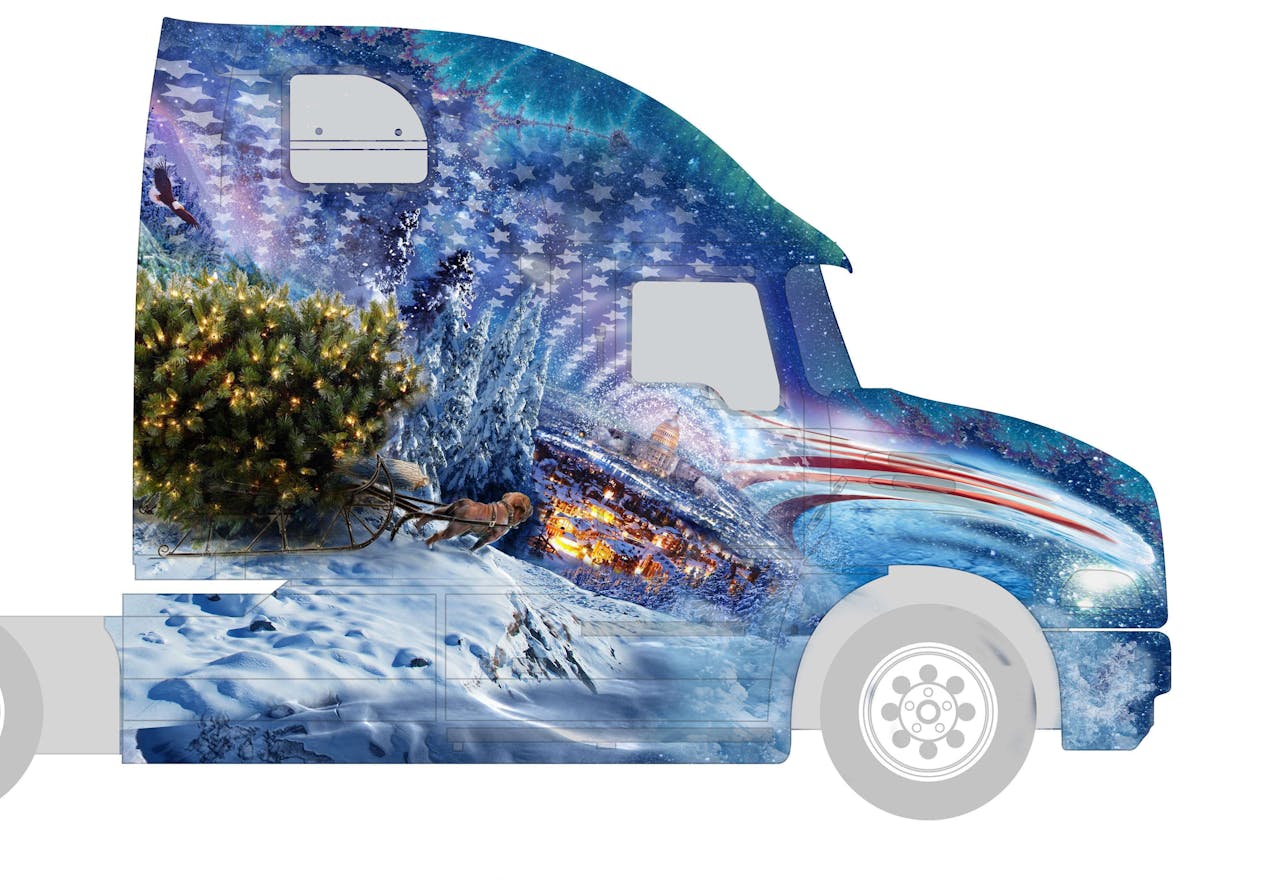 Mack Trucks revealed the 2013 Capitol Christmas Tree truck decal design this week, which will be displayed on the two custom Mack Pinnacle models transporting the 2013 Capitol Christmas Tree cross-country from the state of Washington to Washington, D.C.
The design features Mack the Bulldog pulling a lit Christmas tree on a sled toward the U.S. Capitol. In the background is the U.S. flag. The official seal of the 2013 Capitol Christmas Tree project adorns the hood of the Pinnacle models. Brad Walker of Kettle Falls, Wash., who lives just a few miles from the Colville National Forest, designed and illustrated the image.
The 2013 Capitol Christmas Tree tour officially begins Nov. 5 after a cutting ceremony on Nov. 1 near Newport, Wash., in the Colville National Forest. The tour will travel across Washington through Idaho, Utah, Arizona, New Mexico, Texas, Arkansas, Tennessee, Virginia, Maryland and Pennsylvania before being delivered to the west lawn of the Capitol on Nov. 25. Throughout the 11-state tour, the tree will make stops in more than 25 cities for community events that increase awareness about the importance of conserving America's forests.
In addition to Mack's support of the Capitol Christmas Tree tour, the trucking industry is playing a significant role in this year's project. The Truckload Carriers Association is hosting community events in Boise, Idaho, St. George, Utah and Knoxville, Tenn. TCA will also host Capitol Christmas Tree events at a Dallas Mavericks game in Dallas on Nov. 18 and a Nashville, Tenn. concert featuring performer Lindsay Lawler on Nov. 21.
The fuel-efficient MACK Pinnacle Axle Back model sleeper is equipped with a MACK mDRIVE automated manual transmission, easy to drive and perfect for navigating the many changes in terrain along the cross-country tour. The truck was also built with the MACK Twin Y air suspension to maximize driver comfort and maneuverability. The tree will be hauled using a custom-built trailer fitted with a cradle designed to support the tree's branches. The trailer was donated by Hale Trailer Brake and Wheel of Allentown, Pa.
Mack Trucks has been the official transport sponsor of the Capitol Christmas Tree for several years, most recently in 2011 and 2012. A second Mack Pinnacle will haul companion trees for other areas at the U.S. Capitol and more than 5000 handmade ornaments created by Washingtonians with the theme of "Sharing Washington's Good Nature."