Chris VanPelt and his 2007 Peterbilt 379 have been through some tough times together, including a divorce and two bankruptcies. But he and the rig have pulled out some good times of late riding the show truck circuit.
The Menomonee Falls, Wis.-based operator runs the Pete daily hauling general freight nationwide. He's put more than 750,000 miles on it, and he says it may be the only custom job he turns out.
VanPelt says the rig's mint and teal two-tone paint scheme came to him in a vision and that he knew just the shades he wanted his new truck to be. He developed the color himself by mixing a few different shades of DuPont paint, and he worked with Peterbilt to spec the truck with that color from the factory.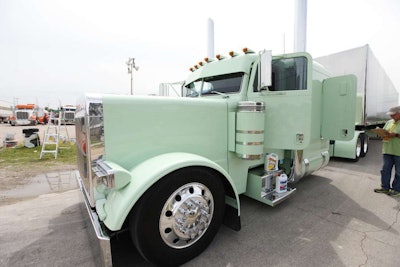 He picked the tractor up in 2006, but he didn't finish customizing the exterior and interior until August 2007, adding custom airbags to the truck's front end, filling holes, reskinning the doors, adding custom headlights, reupholstering the interior, installing aftermarket rocker switches and putting in custom flooring. He also stretched the frame to 312 inches.
The truck scored VanPelt a lifelong dream: being featured in Shell Rotella's annual SuperRigs calendar, as he's included in the 2014 version.