The Iowa 80 Truckstop hosted more than 44,000 attendees last week at its annual Walcott Truckers Jamboree, the truck stop announced.
Click here to see the list of winners below from the show's Super Truck competition.
More than 63 trucks competed in its Super Truck competition, and attendees were treated to concerts by Chris Janson, Lindsay Lawler and John Anderson, presented by Mobil Delvac.
The three-day show also featured 175 exhibits, more than 150 antique trucks, a pork chop cookout, Trucker Olympics and carnival games.
The truck stop also celebrated its 50th anniversary at the show with cake created by the Cake Boss.
Here are a few photos from the event's happenings: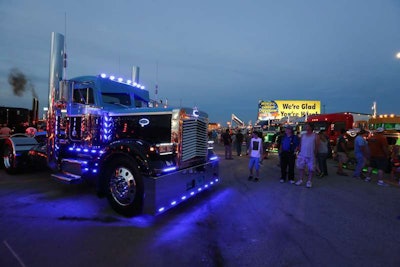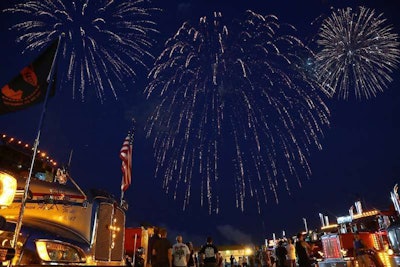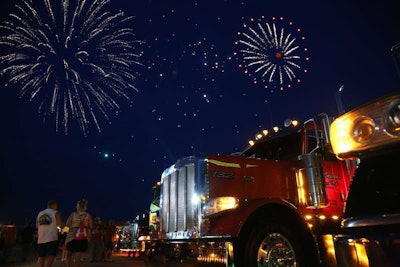 Here's the list of winners from the Super Truck competition:
1st Neal Pearson, Lone Tree, IA – 1984 Kenworth K100
2nd Chris Gornik, Franklin Park, IL – 1988 Ford CL9000
3rd Mike Harbison, Morning Sun, IA – 1982 Mack
WT: Company Truck – Bobtail
WINNER: Darryl Kauffman, Shipshewana, IN – 2004 Kenworth T800
WT: Company Truck – Combination
WINNER: Zach Pletcher, Elkhart, IN – 2012 Kenworth – They Call Me The Breeze
WT: Specialty
WINNER: Buck Monson, Davenport, IA – 1987 Peterbilt wrecker
WT: 2014-2011 Bobtail Conventional
1st Rollie Kruse, Toronto, SD – 2013 Freightliner Coronado
2nd Rodger Nelson, Warman, SK Canada – 2013 Peterbilt 389
3rd Dan Brown, Salem, WI – 2012 Peterbilt – Limelight
WT: 2010-2004 Bobtail Conventional
1st Larry Wheeler, Lowell, IN – 2004 Peterbilt – 10 IN
2nd Paul Saline, Rio, IL – 2009 Kenworth W900L – Satisfaction
3rd Mitch Broderson, East Peoria, IL – 2007 Western Star – Live to Ride
WT: 2003-1997 Bobtail Conventional
1st JR Schleuger, Britt, IA – 2003 Kenworth – Blue Baron
2nd Scott Lynch, Witt, IL – 1998 Mack – Flashy One
3rd Logan Massey, Worthington, IA – 1999 Peterbilt – Back Seat Driver
WT: 1996-1989 Bobtail Conventional
1st Ron Brubaker, Sigourney, IA – 1993 Peterbilt 379 – One Of A Kind
2nd Chad Robertson, Clarence, MO – 1996 Kenworth W900L – Barely Getting By
WT: 1988 & Older Bobtail Conventional
1st Ernie Bates, Burlington, CO – 1970 Peterbilt 359
2nd Tim Stevenson, North Mankato, MN – 1987 Peterbilt – Little Pete
3rd Tyler Jaeger, Worthington, IA – 1972 Peterbilt
WT: 2014-2009 Combination
1st Dan Brubaker, Sigourney, IA – 2014 Peterbilt & 2015 Wilson – All In
2nd John Hildreth, Guthrie, OK – 2014 Freightliner Cascadia & 2015 Walker
3rd Craig Schroyer, Celina, OH – 2015 Peterbilt & 2013 Landoll – Wounded Warrior Project
WT: 2008-2000 Combination
1st Jerry Linander, Winona, MN – 2007 Kenworth W900L & 2014 Great Dane – Leroy
2nd Shawn Cielke, Haugan, MT – 2007 Kenworth T600 & 2014 Wabash – Outcast
3rd Shawn Swanson, Prophetstown, IL – 2002 Kenworth W900B & 2010 Retinour – Pure Attitude
WT: 1999 & older Combination
1st Daniel & Phyllis Snow, Harrison, AR – 1996 Freightliner Classic & 2006 Utility – The Goose
2nd Wesley Wulff, Gann Valley, SD – 1993 Peterbilt 379 & 1997 Dorsey – Never Settle
3rd Dennis Hilker, New London, WI – 1994 Freightliner Classic & Utility Reefer
Show Class
WINNER: Harvey Zuidema, Morrison, IL – 1957 DIVCO – The Milk Truck
Custom Paint (Bobtail)
1st Ron Brubaker, Sigourney, IA – 1993 Peterbilt 379 – One Of A Kind
2nd Dan Brown, Salem, WI – 2012 Peterbilt – Limelight
3rd Mitch Broderson, East Peoria, IL – 2007 Western Star – Live to Ride
Custom Paint (Combination)
1st Dan Brubaker, Sigourney, IA – 2014 Peterbilt & 2015 Wilson – All In
2nd Shawn Swanson, Prophetstown, IL – 2002 Kenworth W900B & 2010 Retinour – Pure Attitude
3rd Terry Redding, Omaha, NE – 2012 Freightliner Coronado & 2011 Utility – Goliath
Custom Graphics (Bobtail)
1st Harvey Zuidema, Morrison, IL – 1957 DIVCO – The Milk Truck
2nd Larry Pruitt, St. Clair, MO – 2007 Mack – Bustin' Out
3rd Rodger Nelson, Warman, SK Canada – 2013 Peterbilt 389
Custom Graphics (TT Combo)
1st Shawn Cielke, Haugan, MT – 2007 Kenworth T600 & 2014 Wabash – Outcast
2nd Jerry Linander, Winona, MN – 2007 Kenworth W900L & 2014 Great Dane – Leroy
3rd Craig Schroyer, Celina, OH – 2015 Peterbilt & 2013 Landoll – Wounded Warrior Project
Polish & Detail – Bobtail
1st Ron Brubaker, Sigourney, IA – 1993 Peterbilt 379 – One Of A Kind
2nd Paul Saline, Rio, IL – 2009 Kenworth W900L – Satisfaction
3rd Dan Brown, Salem, WI – 2012 Peterbilt – Limelight
Polish & Detail – TT Combination
1st Shawn Swanson, Prophetstown, IL – 2002 Kenworth W900B & 2010 Retinour – Pure Attitude
2nd Shawn Cielke, Haugan, MT – 2007 Kenworth T600 & 2014 Wabash – Outcast
3rd Jerry Linander, Winona, MN – 2007 Kenworth W900L & 2014 Great Dane – Leroy
Interior – OEM Sleeper
1st Matt Baenziger, Kingston, IL – 2005 Peterbilt 379
2nd Shawn Cielke, Haugan, MT – 2007 Kenworth T600 – Outcast
3rd Larry Pruitt, St. Clair, MO – 2007 Mack – Bustin' Out
Interior – OEM Conversion Sleeper
WINNER: Scott Lynch, Witt, IL – 1998 Mack – Flashy One
Interior – Custom Sleeper
1st Michael & Jackie Wallace, Miramar, FL – 2007 Freightliner Coronado – Semper Fi
2nd Daniel & Phyllis Snow, Harrison, AR – 1996 Freightliner Classic & 2006 Utility – The Goose
3rd Gary Greer, Barnhart, MO, 1974 Kenworth W925 Straight Truck (the whole box is his sleeper)
Lights at Night – Bobtail
1st Mitch Broderson, East Peoria, IL – 2007 Western Star – Live to Ride
2nd JR Schleuger, Britt, IA – 2003 Kenworth – Blue Baron
3rd Paul Saline, Rio, IL – 2009 Kenworth W900L – Satisfaction
Lights at Night – Combination
1st Matt Baenziger, Kingston, IL – 2005 Peterbilt 379 & 2015 Merritt
2nd Dan Brubaker, Sigourney, IA – 2014 Peterbilt & 2015 Wilson – All In
3rd Shawn Swanson, Prophetstown, IL – 2002 Kenworth W900B & 2010 Retinour – Pure Attitude
Lights at Night – Specialty
WINNER: Buck Monson, Davenport, IA – 1987 Peterbilt wrecker
Best Overall Theme
WINNER: Larry Pruitt, St. Clair, MO – 2007 Mack – Bustin' Out
Trucker's Choice
WINNER: Rodger Nelson, Warman, SK Canada – 2013 Peterbilt 389