Trucking is an industry with a long-standing and close relationship with the United States military and its veterans.
With Veterans Day being celebrated Friday, Nov. 11, here's a look at some military- and patriotic-themed trucks to ring in the day set aside for honoring those who've served the country.
First up is Chuck Timbrook's "Black Out," a 1999 Freightliner that's a rolling tribute to military veterans and POW/MIA soldiers. Timbrook completed the truck in May 2015.
Thomas and Billie Liegel's Liberty and Justice tribute truck is wrapped with depictions of 10 wars, beginning with the Revolutionary War, the War of 1812, the Civil War, WWI, WWII, Korea, Vietnam, Desert Storm, Enduring Freedom and the Iraq War.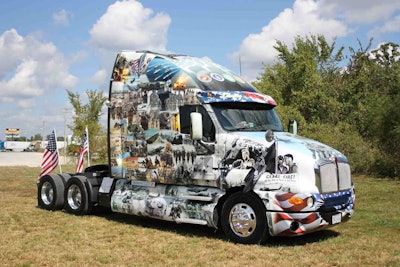 Another heavily military-themed truck is John Cudd's 1986 Peterbilt 359 that honors the Delta Raiders whom he served with in Vietnam. Cudd said in 2013 he "wanted the truck to be a tribute to the guys I served with." A video and photos of the truck can be seen below.
Several fleets, including Schneider, U.S. Xpress and Contract Transport Services, honor veterans with specially painted and wrapped, military-themed trucks.