Roger Hilbrenner of Urbana, Mo., officially retired about five years ago, he says, after a long career hauling regionally as an independent owner-operator with hopper bottoms and end dumps. Regular readers may recall Hilbrenner and his grandson, Silo, from some of our contemporaneous coverage of the Guilty by Association Truck Show in Joplin, Mo., two months back.
In the video at top, Hilbrenner runs through one of the several project rigs he's taken on since retirement, most geared toward restoring and reselling to someone he knows can put the truck to work making money. This one fits the profile of what Hilbrenner tends to work on — anything with a mechanical B-model Cat in it. The 1991 Peterbilt 379 is tastefully appointed, repainted and dressed up a bit the bumper to bumper, with five feet added to the frame to a 280-plus wheelbase. But if you're looking for a sharp pre-2000 model year rig to avoid the ELD mandate, don't look to buy here, necessarily. The difference with this one, as Hilbrenner says in the video, is he'll keep it as his toy.
Among the special touches, on the 20-inch front bumper — this breast-cancer-awareness plate, Hilbrenner points out.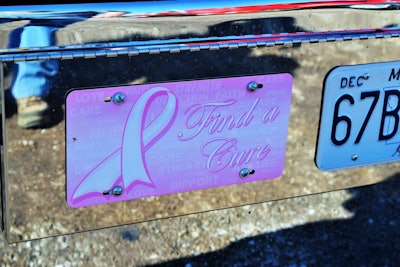 Hilbrenner's wife is a breast cancer survivor, free and clear for several years now. Catch more views in the video and via the slider gallery below.