The trucking industry doesn't hide its pride for America's military, and that is evidenced by the number of trucks on the road that sport American- and military-themed graphics.
With Memorial Day being this Monday, May 30, here's a look at some military- and patriotic-themed trucks to ring in the day set aside for honoring those who died in active duty while serving the country.
First up is a 1988 Freightliner FLT86 cabover that has been on display at MATS and GATS in recent years, owned by Ed Harwell, a U.S. Army veteran. The truck represents "what you might see in a war veteran," says Harwell, a vice president with J.B. Hunt.
One of the more unique trucks at 2017's Great American Trucking Show was Brad Hartwick's 1978 Kenworth W900A that he transformed into a hot rod. "The Patriot" features American flag graphics on the front end of the rig, the preamble to the U.S. Constitution, the Bill of Rights and more.
Nearly everything on the truck was custom built in Hartwick's Rose Bud, Arkansas, shop, including the bed, stacks, visor and more.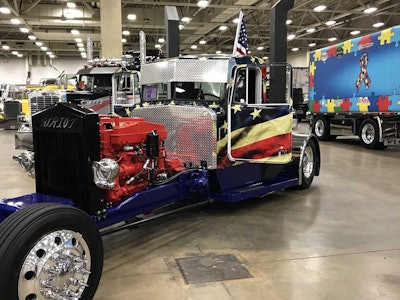 Owner-operator Grant Maxey's 1988 Heil tanker is painted as a rolling tribute to military veterans. It features American flag graphics, a depiction of a battleship and more.
Owner-operator Sean McEndree's "Band of Brothers" 2006 Peterbilt 379 pays tribute to those who have received a Purple Heart while in the service. DB Kustom Trucks built the truck from the frame up. Everything on the truck, inside and out, was rebuilt.