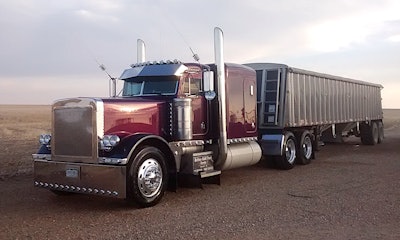 Ryan Britten hauls hay, grain and farm machinery with this 1995 Peterbilt 379 extended hood. The Haswell, Colo.-based owner-operator is permitted to haul up to 97,000 pounds in his home state. The truck is powered by a 3406E Cat with a BorgWarner turbo and an 18-speed with 3:70 rears.
About a year ago, Britten gave the truck a complete overhaul, removing a 63-inch stand-up sleeper and replacing it with a flattop. He also removed the extenders and added six more lights to the back of the sleeper. Additionally, he removed the air horns from the top of the cab and added nine cab lights. All of the emblems on the truck were removed, and Britten replaced the grille surround with a stainless steel surround. The dual round headlights were also added, along with 8-inch American Eagle stainless stacks and a 22-inch bumper.
Click here to see more photos of reader uploads or to submit your own.