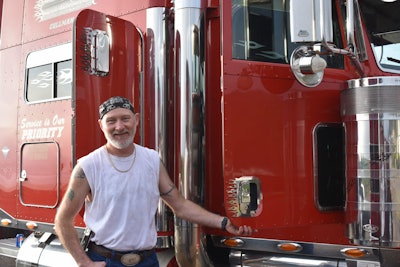 Truck driver Phillip Clayton, from Scottsboro, Alabama, grew up listening to Red Simpson's trucking songs while riding around with his father. When he was offered the opportunity to design a 2005 Peterbilt 379 for Priority Transportation, who he drives for, Clayton jumped at the chance to do a tribute to Simpson.
"Nobody ever gave him any recognition. He was pretty much forgotten," Clayton said about why he wanted to do a tribute to Simpson. "He'd written songs over the years from back in the 50s and 60s that he just handed off. He made a lot of other people rich. He was taken advantage of in the younger years."
Clayton dubbed the truck the "Nitro Express" in honor of one of Simpson's songs.
While the truck belongs to Priority Transportation, Clayton was given free rein over its design and drove it for over 850,000 miles before the truck was retired from work in 2013. Now that it's retired, the truck is used in community parades and events in Cullman, Alabama. Clayton brought the truck out to the recent American Truck Historical Society Heart of Dixie Chapter's Trucks on the Lake truck show in nearby Lake Guntersville.
The truck has a 270-inch wheelbase and an Ultra Sleeper. It's paired with a 2007 Great Dane trailer. It has an original 15-speed with a 550-hp Cat. Inside, the truck has Rockwood flooring as well as Rockwood features on the door handles, both in the African rosewood variety. The door handles have built-in finger grips. The truck sports a set of Comfort Air high-back adjustable seats. The muffler was specially built and cut to three feet with a stainless steel wrap.
Flames appear throughout the truck's design, both inside and out. On the back, the truck proclaims to be "A Tribute To The Country Music Legend Mr. Red Simpson" and includes a list of Simpson's most popular songs.
"Sweet Home Alabama" is scripted onto the back of the sleeper, a signature design that Clayton has included on all his trucks.
"It's a little faded and I need to redo it, but it still looks good. Every truck I've ever owned myself and every truck I've ever driven, I've put that on there," Clayton said.
During the build process, Clayton prioritized using stainless steel over chrome. The only things chrome on the truck are the rooster hood ornament and the pipes.
"Everything else is there for life. It won't rust," Clayton said. "They don't realize stainless doesn't rust. It costs more, but it's a one-time placement."
Clayton built the truck himself, designing and manufacturing its various elements. What he didn't manufacture, he designed and had cut and put it on the truck himself. He put on all of the lights and did the truck's wiring.
"I'm just the type of person that I don't want something you can buy off the shelf," he said.
Clayton says he could've recruited help with building the truck, but he's a self-described perfectionist and didn't want to entrust the truck to others.
"They don't have a stake in it so I can't get the best out of them, so I've insisted on keeping on doing it myself," said Clayton.
The Nitro Express has earned Clayton 22 trophies from various venues during its show career, but Clayton's favorite moment with the truck is when he was able to show it to Red Simpson.
Simpson was performing at a dance hall in Bakersfield, California, in 2007. Clayton had the truck parked outside and had the opportunity to show it to Simpson, who dedicated a song to him that night.
"When he saw this, it just impacted him because people nowadays don't know his music," Clayton said.
Clayton's favorite thing about the truck isn't its stainless steel features or its Ultra Sleeper. More than all of its custom parts, Clayton values his memories with the truck the most.
"It's a lot of memories and enjoyment that I never had time to enjoy because it went by so quick," Clayton said.