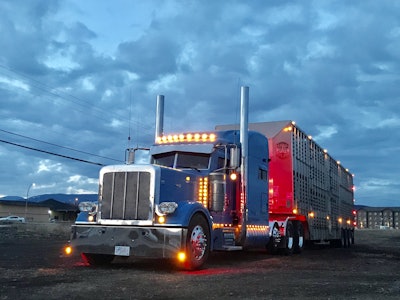 Maggie McCaskie drives this 2011 Peterbilt 389, which is owned by Vanee Livestock out of Alberta, Canada. The rig sports a 550-hp Cummins backed by an Eaton 18-speed with 3:91 rears and sits on a 283-inch wheelbase. It was mostly stock when it was purchased, but Vanee's mechanics stretched the frame and had it repainted, then added new drop skirts, lights, stacks, visor, fenders, headlights and bumper. She hauls cattle with the rig across southern Alberta, British Columbia, Idaho and Washington state.
McCaskie got the truck after a crash in late 2018 with her Kenworth W900 in which someone pulled out in front of her when she was loaded with finished cattle at 102,500 pounds. McCaskie tagged the car and took the 12-foot ditch and a telephone pole, totaling the truck. Vanee was happy with the outcome of the situation and asked her what she wanted for a new truck, so she requested the 389.
Click here to see more photos of reader uploads or to submit your own.