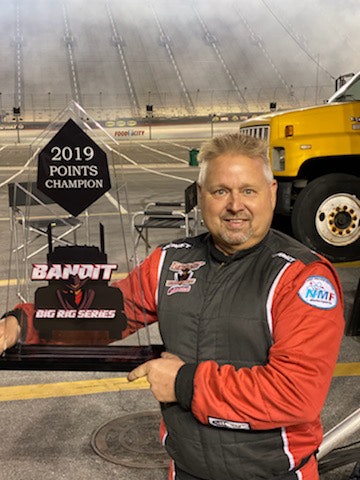 Bandit Big Rig Series racer Ricky "Rude" Proffitt captured his third consecutive series championship, holding off a hard-charging Mark Noble to win the title by just three points.
The 2019 Bandit Series campaign concluded Oct. 12 at Bristol Motor Speedway in Tennessee. Proffitt came into the final race of the season with a 13-point lead over Noble in the points standings and had to overcome a poor outing to hold on for the title. The day started with Proffitt qualifying 10th out of 16 racers, while Noble qualified fifth. Proffitt and Noble then both won heat races.
"I was disappointed with the truck," Proffitt says. "I was down on power and had a disappointing weekend from a standpoint of being competitive. I qualified terribly, then wrecked in the challenge race."
The biggest jump Noble made to close the points gap during the Bristol event was winning a challenge race that Proffitt crashed out of. Proffitt says after his crash, he only led Noble by two points going into the 30-lap feature race.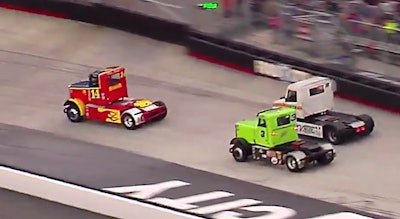 Proffitt hit the wall when he crashed and bent the front bumper, along with other damage, but he says the track's wall design probably saved his season. Because Bristol is a high-level NASCAR track, it has what is called SAFER (Steel and Foam Energy Reduction) barriers installed to absorb impact and make crashes less violent for drivers than traditional concrete walls. Proffitt says this reduced damage to his truck and allowed his team to get it fixed in time for the feature race.
In the feature race, in which the starting order is selected randomly, Proffitt started fourth while Noble started 13th. Noble wasn't able to make up enough ground in the 30 laps to pass Proffitt and finish far enough ahead to overcome the slim deficit. Proffitt ended up finishing the race fifth, while Noble finished sixth. Jon Lisenbee claimed his first career victory in the race.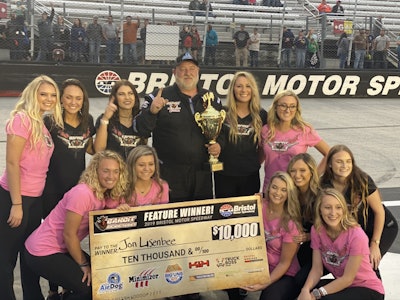 "It was kind of a whirlwind," Proffitt says of the 2019 season. "This year was tough. They changed the way we earn points to make it more competitive, and it came down to the end. These boys are stepping up their game. I'm going to have to make some good changes to be ready for 2020."
Proffitt says the biggest key to his three-peat has been consistency and not trying to get too down when things aren't going the way he wants.
"I try to lay back and try to get into the motion of things," he says. "The way our system is set up, the biggest thing is qualifying. We get points for qualifying, and I struggled there this year. I'm going to have to make some horsepower changes for next year. I've had the same truck for three years, but the horsepower isn't there for the future."
The Bandit Big Rig Series is set to return in 2020 with the schedule to be announced in December or January.