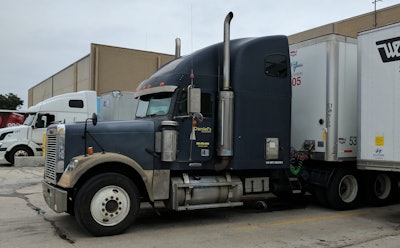 Burlington, Vermont-based Dan Cohen bought this 2000 Freightliner FLD120 in March 2011 after it had been used in Celadon's fleet since it was new. The rig features a 1996-model 410-hp Cat C12, which he bought in 2012 after the original C12 blew less than a year after he purchased the truck. He had the engine rebuilt after it blew in the fall of 2016. The truck still sports the original 10-speed Meritor transmission that was in it when Celadon bought it in 1999.
It's equipped with a high-roof, double-bunk sleeper and is mostly no-frills when it comes to technology, Cohen says. For the past several years, he has been running it from Vermont to Wisconsin and back hauling general freight for Bellavance Trucking.
Click here to see more photos of reader uploads or to submit your own.