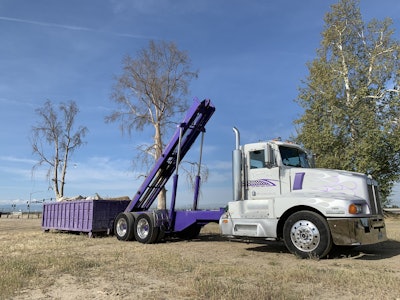 Bob Mutch owns this 1987 Kenworth T600A rolloff truck, which he drives daily hauling construction and demolition waste throughout Kern County, California. The rig is powered by a 444 Cummins with a 13-speed and 3:90 rears. Mutch, who is 42 now, has owned the truck since he was 18 and has put 1.3 million miles on it.
He built the truck as it is today himself, which included taking off a 60-inch sleeper and adding a double frame. He also had the truck sandblasted and the frame painted purple. The white base and flames were done by K-Daddyz Kustomz in Bakersfield, California. The paint job is about 20 years old.
Other features Mutch has added to the truck include a sound system with 10-inch subwoofers, chrome accents on the dash, a custom wood steering wheel, custom purple and silver seats and polished aluminum on the exterior.
While he drives the truck daily, it is used on a limited mileage basis, picking up concrete, scrap and demolition waste. He says his fleet of eight trucks will soon be moving to Colorado with California's strict emissions regulations.
Click here to see more photos of reader uploads or to submit your own.