Click here to see more photos of reader uploads or to submit your own.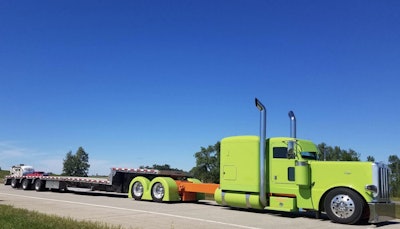 Justin Durand owns this 2018 Peterbilt 389 glider, "So Low," which he uses for his Haul-it Transport to run step deck freight on a 53-foot Reitnouer triple-axle. The rig was assembled by Hoover's Truck and Equipment in Dover, Ohio. He ordered and spec'd the truck in 2017 with a factory 320-inch wheelbase with 3/4 frame liner. It has a 72-inch flattop sleeper. The exterior color, Sublime Green Pearl, is a custom paint code that he got after working with Peterbilt. The chassis is Vitamin C Orange.
The rig is powered by a 1999-model Cat 3406E with a C-18 Marine Cam Bully Dog ceramic-coated exhaust manifold and a larger Borg-Warner 78mm turbocharger that has been ceramic-coated and polished as well. The exhaust system is a Dynaflex full 8-inch with bullhorn tips and Pickett elbows. It also has an 8-inch T-pipe. The transmission is an Eaton-Fuller 18-speed. It also sports 40K rear ends with full lockers and a 3:36 ratio.
Durand says he wanted a clean look, so he ordered the truck without cab clearance lights and without traditional roof-mounted horns. It has a factory 5-inch drop car hauler front axle with factory air ride with dump valves. He also spec'd the truck with disc brakes. The rear suspension is "Low Low" air leaf.
Among other custom work is an A&A stainless drop visor with recessed LED lights, air breather light bars with recessed LED lights and strapless tank mounts. He also installed curved window chops, and painted the visor, air tanks and window chops. The 150-gallon fuel tanks were pulled and painted, then wrapped with 3M Rock Guard film. Durand used a lot of 12-Gauge Customs parts, including their 8-inch drop cab and sleeper panels, battery and toolbox covers and more. They also built him a 20-inch stainless blind mount front bumper with recessed and angled license plate holder. He also added a front bumper lift kit.
He went with a Talladega Fiberglass deck plate wrap, which he trimmed and fitted to hug suspension hangers closely for a cleaner look. He also built his own hidden brackets to secure the deck plate. Finally, he added Bad Ass fiberglass double hump rear fenders.
"Most people we run into at the [truck] shows, even on the road sometimes, do not believe it is a 'working show truck,'" Durand says. "Most believe it is show only. My 16-year-old son, Matthew, helps me wash it weekly. A typical wash day for us is 10-12 hours straight – that doesn't include any polishing. Not only do we hand wash the truck without brushes, but we put on our swimming trunks, lay on the shop floor, and hand-wash the entire chassis from oil pan to the rear ends, and have done so for 3 years with this truck. We do this weekly, all to just get dirty again the next week."
Durand and his wife, Tammy, started Haul-it Transport in 2014, operating under their own authority. Most of his work is direct hauling from shippers. His primary contract is hauling road construction building supplies for federal, state, county and municipal projects, mostly in the Midwest and Western regions.
More photos of the rig can be seen below: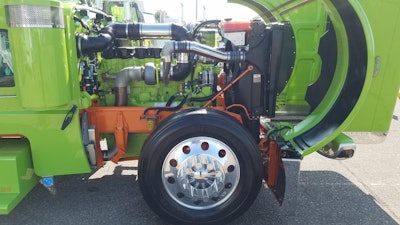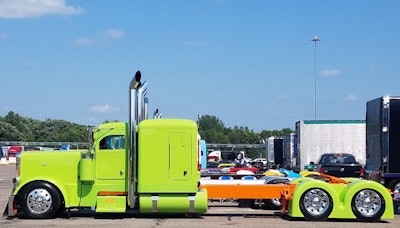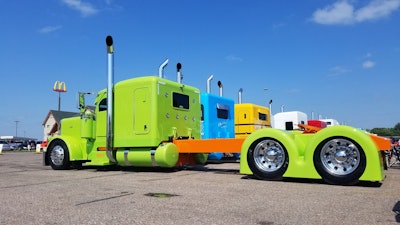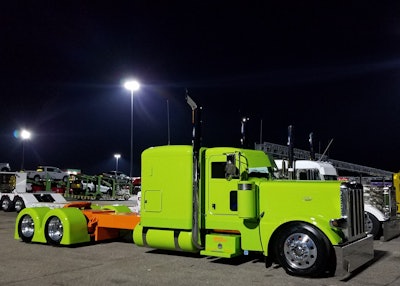 Click here to see more photos of reader uploads or to submit your own.