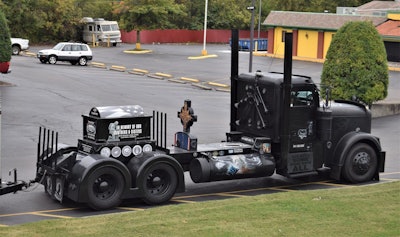 The trucking industry is full of military veterans and patriotic citizens that pride themselves on supporting the military and putting that support on full display through graphics on their rigs.
With today being Veterans Day, here's a look at some military- and patriotic-themed trucks that have been featured on Overdrive in recent years to thank those who have served in the United States military.
First up is Chuck Timbrook's "Black Out" 1999 Freightliner Classic XL. Timbrook, facing some health issues, recently took the truck on what could be his last tour with it to honor the 13 U.S. service members killed in a terrorist attack at the Kabul airport as U.S. military forces withdrew from Afghanistan in late August.
Next up is Mark and Holley O'Donnell's "Family Tree" 2018 Peterbilt 579, which features a custom wrap to honor the trucking industry and American military.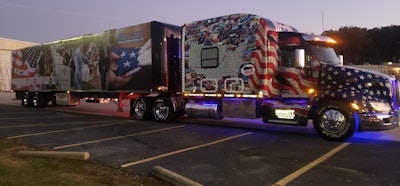 Ed Harwell's "Service and Sacrifice" 1988 Freightliner FLT has made the truck show rounds through the years and features numerous nods to the military and veterans.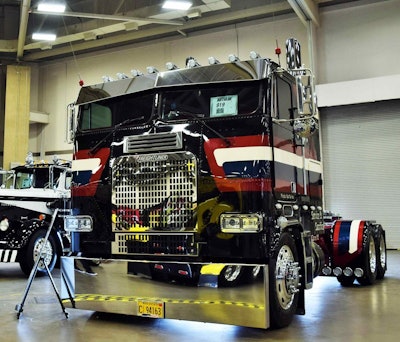 One of the more unique patriotic rigs featured on Overdrive through the years has been this 1978 Kenworth W900A hot rod built by Rose Bud, Arkansas-based Brad Hartwick. The truck, appropriately named "Patriot," features American flag graphics on the front end of the rig, the preamble to the U.S. Constitution, the Bill of Rights and more.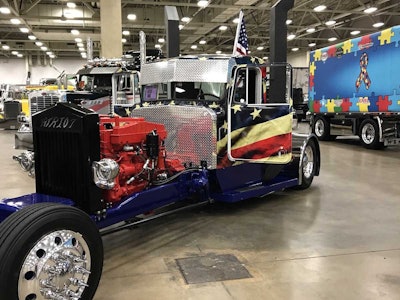 Finally, a look at owner-operator Sean McEndree's "Band of Brothers" Purple Heart-themed 2006 Peterbilt 379.