Willard, Missouri-based one-truck owner-operator Brandon Davis showed his classic 1994 Peterbilt 379 named "Double or Nothin'" at the Guilty By Association Truck Show in Joplin, Missouri, last fall. "Double or Nothin'" is the truck that Davis' son, Remington "Rooster" Davis' "WeePete" replica is modeled after.
Davis, who owns Left Lane LLC with his wife Cortney, uses the rig to haul a variety of flatbed freight across the country with his 2020 Wilson stepdeck trailer.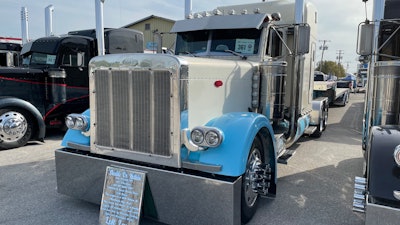 Cortney started Left Lane as a pilot car company in 2014 when Brandon was doing heavy-haul work out of Colorado. When the Davis' moved to MIssouri in 2016, Cortney got out of the pilot car business to stay home with the couple's young children, and the next year, Brandon bought "Double or Nothin'."
"A year or so [after moving to Missouri], we got the truck, and we already had the LLC, so we just opened up under the same company again and resumed making money with the same name," Brandon said.
Brandon himself is a third-generation truck driver. His grandfathers drove trucks, as well as his father. Despite objections from his father, Brandon still went into the trucking industry. And given his son's passion for trucking at a young age, it's a possibility he's already passed the trucking bug along to the next generation.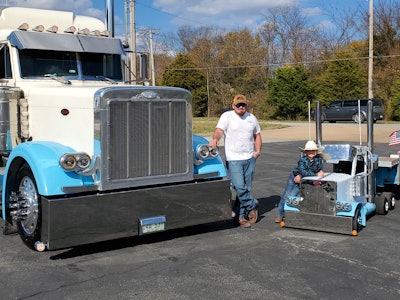 Under the hood, the rig features a 425-hp Cat 3406C, which has 1.2 million miles and has been rebuilt twice through the years, and an 18-speed double overdrive and 3:70 rears. The truck sits on a 262-inch wheelbase.
Other custom touches the Davis' have added to the truck include the front bumper, side boxes, deck plate, a custom shock cover and more.
"We don't have a lot of time to take the truck down to do customizations to it, so we try to squeeze it in a 8 o'clock at night, or on a Sunday or Saturday after the boys play football or something," Brandon said.