Self-proclaimed "sports car guy" George Phillips, out of Danville, Indiana, found this 1973 White Compact spotter tractor — formerly a Consolidated Freightways-owned unit — for sale about seven or eight years ago.
Phillips said some friends helped convince him to buy it one New Year's Eve as a truck they would rebuild together. After he made the purchase, though, he was pretty well left to do the custom build himself, which took about five years off and on.
He showed the final fruits of his labor in the Paul K. Young Truck Beauty Championship at the Mid-America Trucking Show two weeks back.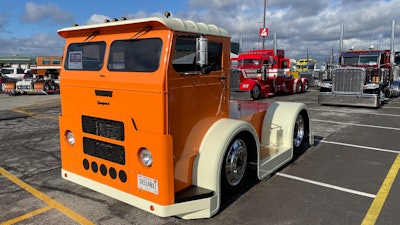 Among custom touches Phillips added to the truck include an air suspension, chopped top and much more. "It was just a custom fabrication job," he said.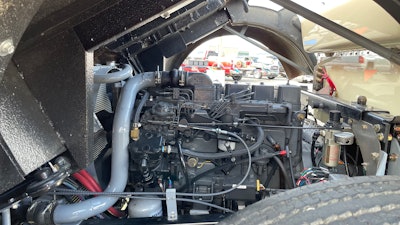 Phillips originally planned to paint the rig in a two-tone brown scheme, and a friend of Phillips' wanted to go with a two-tone orange — both a big departure from the truck's green and red Consolidated Freightways heritage. He finally decided on the Dreamsicle orange and cream scheme.
"I said it's got to be single-stage [paint] so I can touch it up, and then we decided to do the Dreamsicle look," he said. "It's appropriate for this truck."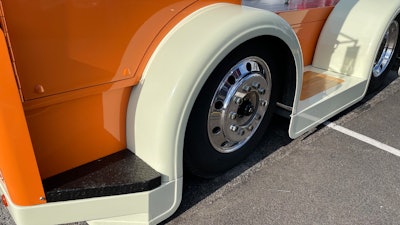 Phillips drives the truck around Danville as much as he can, because it always gets a good reaction from people who see it.
"It's fun to drive; it makes people smile," he said. "You take it to Walmart, the women don't know anything about it, but it makes them smile. The little kids, they think it's a toy. It's just for fun."