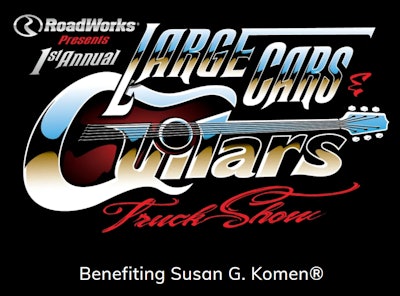 Trucker-songwriter Tony Justice has been kicking around the idea for what is itself kicking off in May for quite some time. May 5-7 will see the inaugural Large Cars & Guitars truck show at Smokies Stadium in Kodak, Tennessee, just north of I-40 and due east of Knoxville at Exit 407.
For the truck-show portion of the event, which will also feature plenty in the way of musical entertainment, the "only people judging are the kids" in attendance, said Justice, and it's going to be for Best of Show. "Anybody can win it, whoever gets the most creative" to appeal to the younger set.
Overdrive has heard of a likely showing from more than one participant, including the current owner of this 1970 Kenworth W925A that its former owner-operator, Martin Herman, recently sold to.
Justice notes the three days of festivities there stand to be a down-home great "reason to get together and have a good time."
[Related: Martin Herman on the value of roadside inspections -- and his narrow-nose 1970 Big Cam-powered W925A]
Justice has partnered with Evan Steger of Evan's Detailing & Polishing to coordinate the truck show portion of the event, with quite a special Best of Show trophy -- an electric Fender Telecaster "custom-designed to match the winning truck," Justice said. He hopes it's "something they can put in their living room and look really cool," and of course play if they're skilled on a six-stringer.
Justice made an analogy to the Martinsville (Virginia) Speedway's NASCAR race and its grandfather-clock trophy, hoping the Large Cars & Guitars Telecaster prize could be something other than "just another trophy."
Some of the proceeds from the event are slated to benefit the Susan G. Komen Foundation for a cure for breast cancer. Justice's involvement with the foundation predates the event, with the music video for his "War Paint" song from 2021 part of a national campaign for the foundation. "War Paint" was inspired by Justice's wife and business partner, Misty, and her own long battle with the disease.
A "Convoy for a Cure" will also take place attendant to the Large Cars event on May 7. Participation in the convoy is $50, with all those proceeds benefiting the foundation.
Truck-show participants and vendors can register via the Large Cars website.