Josh Van Wagoner, owner of Van Wagoner Trucking out of Elburn, Illinois, showed this pristine 1998 Peterbilt 379 and matching 2012 Great Dane reefer at the 2022 Mid-America Trucking Show in March.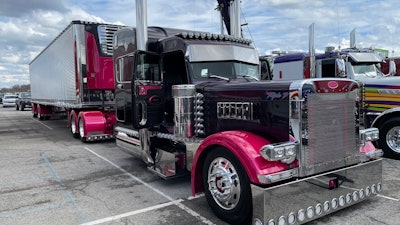 Van Wagoner's small fleet does a little bit of everything, with five reefer trucks that run to California and back, along with some tanker work locally around Illinois and Indiana. He also has a couple flatbeds, and in the fall hauls corn.
This particular truck has been in the family since it was new. Van Wagoner's father bought it new in 1997, and Van Wagoner started driving it in 2003. It was originally painted black cherry with pink and teal pinstriping.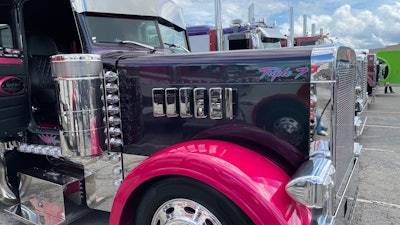 Van Wagoner was in Wisconsin visiting friends one day and saw a motorcycle that was painted a similar shade of pink to what's seen on the truck today.
"I decided I liked it, and I wanted to do it," he said. "I'd never seen anything like that on a truck, so I wanted to be different than everybody else."
Under the hood is a 3406 Cat with a 13-speed and 3:55 rears. The truck sits on a 327-inch wheelbase.
Even though it's been off the road for about a year for a frame-up rebuild, the truck is still a worker and has about 2 million miles on the odometer.