Pricing for 3-5 year-old used sleeper trucks lost about 5 percent on average from December to January, according to recent data from NADA. That trend will likely continue, NADA says, with preliminary February data showing about another 4 percent month-over-month loss. Three to 5-year-old tractors includes 2012-2014 year-model tractors, currently.
"If this prediction holds true, the first two months of 2016 are running about 9 percent behind the fourth quarter of 2015," says NADA's Chris Visser, "on par with our prediction of roughly 4 percent depreciation per month."
Kenwoth T660s appear to be holding their value best, per NADA's data, followed closely by Volvo VNL 730/780s. Likewise, the Peterbilt 386 remains high on the used market pricing list.
Here's NADA's latest chart for used sleeper truck pricing, comparing the more popular models: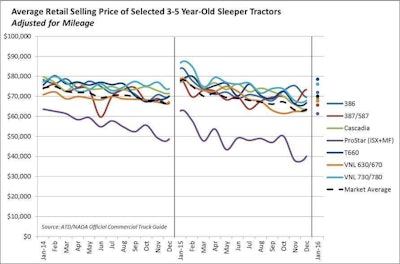 What did your latest trade fetch? Drop a line below.